As television continues to be a favourite means of a pastime, more and more brands are entering the fray that is the TV market, globally. Gone are the days when you could only see brands like Samsung and LG when you went to buy a TV- the market is full of options now with the advent of Smart TVs. Two notable competitors in India, in particular, are the brands MI and VU, with their reasonable pricing and varied product offerings. But which is the better brand for you? Let the VU vs MI TV debate begin.
Summary – VU vs MI: Which one to Buy?
Well, Both these are really budget brands. However, I will recommend you to buy the right television model based on your needs.
If you are a bit of a techie and handle installing a few apps on your own, then This MI Android TV (43 Inch) is what you need to buy. It comes with some great features including built-in Chromecast and full HD display. However, if you are in the market for a bigger and/or 4K Ultra HD TV, then go for this model (55 Inch).
However, if you want easy of use, then opt for This model by VU. This full HD, 43 Inch LED TV is great for day-to-day household use, as you can enjoy Prime Video, Netflix and more, without being a techie!
Ok, so by now you already know my preferences. If you do not, then find them out by clicking on the links above. Let me now dive into the details of the two brands.
I will start off with a brief history of the two brands.
VU Televisions
Based in California, USA, VU was founded in 2006 by Indian entrepreneur Devita Saraf, focused on designing, manufacturing and selling high-quality televisions at affordable prices and leading innovation in the same. VU obtains its parts from Korea, Japan and Taiwan and lastly from China, where the manufacturing takes place. Having seen profits since 2012, VU is now among the highest selling brands in the Indian e-commerce market.
Mi (Xiaomi)
Founded in 2010 and based in Beijing, China, Xiaomi (popularly known simply as Mi) specializes in producing and selling mobile phones, Mi televisions, earphones, apps, fitness bands and other electronic accessories. As of 2018, India was the second-largest market for Mi phones. Mi is popular for its use of cutting edge technology, competitive pricing and quality product offering.
Best TV Models from MI & VU – Comparision
1. VU 32 Inch HD Ready Smart LED TV
A true budget offering from VU, this television model enters the VU vs Mi TV competition not just with its price but with noteworthy Smart TV features too.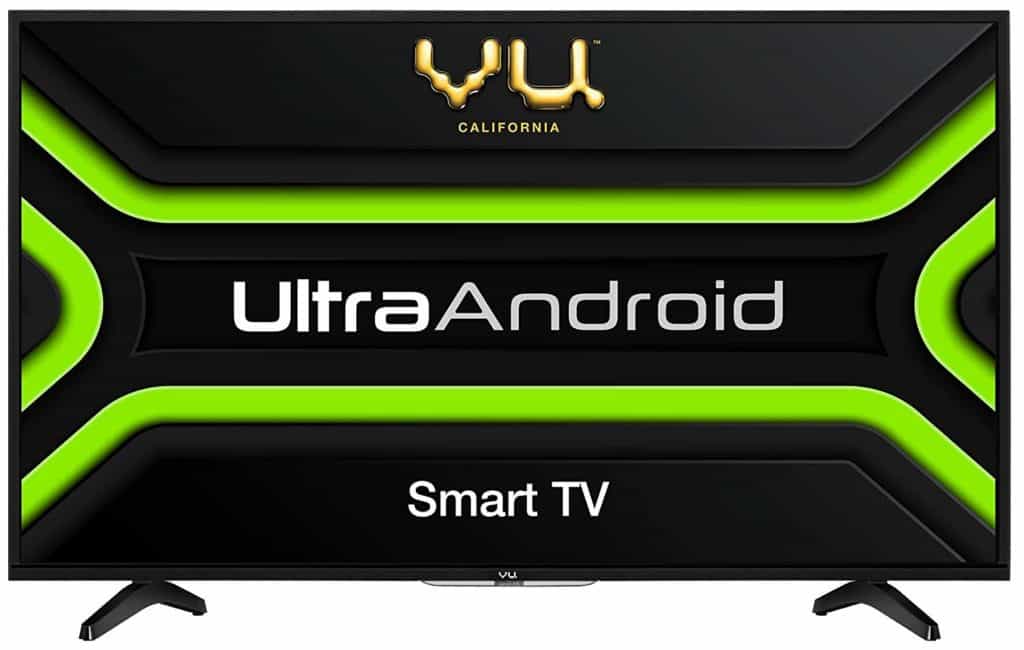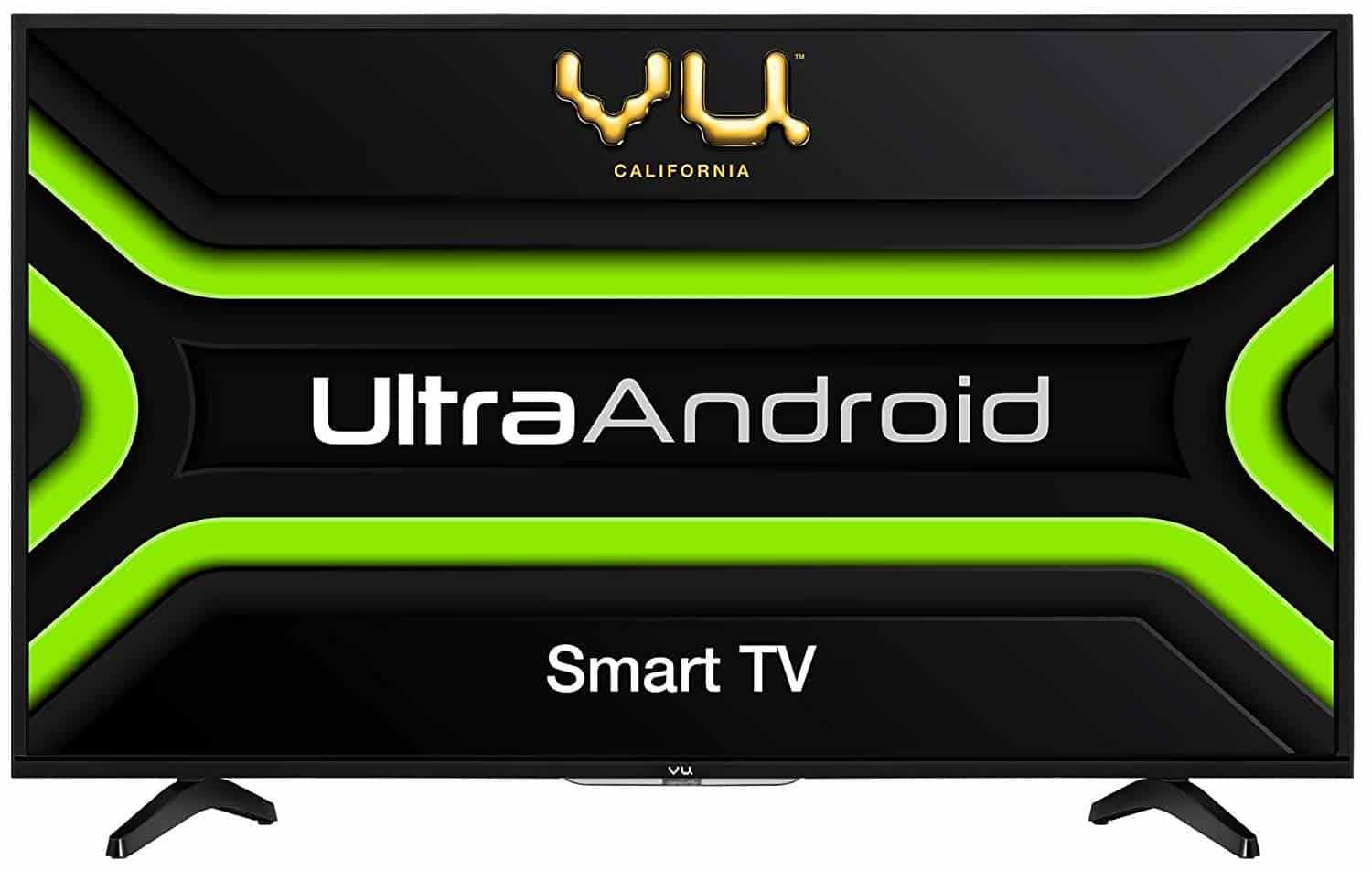 Check More User Reviews – Amazon India
Key Features
A really good sound output of 20 Watts, supported by DTH audio as well as Dolby Audio
The display comes with an A+ Grade LED Panel, high brightness, adaptive contrast and both PC and game mode, which make TV watching as well as gaming a pleasurable experience.
The TV is supported by Android 9.0 Pie and comes with the entire Google eco-system as well as Chromecast Built-in.
2. VU 50 Inch Pixelight 4K HDR Smart LED TV
Priced a little above 40,000 INR but available easily under 30,000 INR at discount on Flipkart, this latest model from VU boasts of a 50-inch big viewing screen, ultra HD resolution and in-built speakers.
This same model is available in 43 and 55-inch variations as well. You can check the price of all three models using the link I provided below.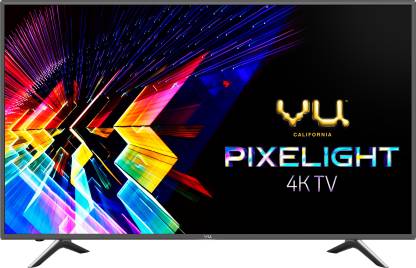 Check Available Discounts & User Reviews – Flipkart
Key Features
This model offers high HD resolution of 3840×2160 pixels as well as an IPS Panel, which makes the picture quality and overall viewing experience quite smooth.
This TV does not come with a Dolby ecosystem, which slightly compromises the clarity and quality of audio, but the sound output is higher at 24 Watts.
The system is Linux based and comes with a dual-core processor. It supports apps such as Prime Video, Netflix and Youtube.
You May Like – Best VU Television in India
3. Mi LED TV 4A PRO
Under 30,000 INR, this model is still fairly budget-friendly, although pricing-wise VU does seem to offer better choices than Mi in the VU vs Mi battle. This model is great for those who prefer the universal remote control as offered by Mi.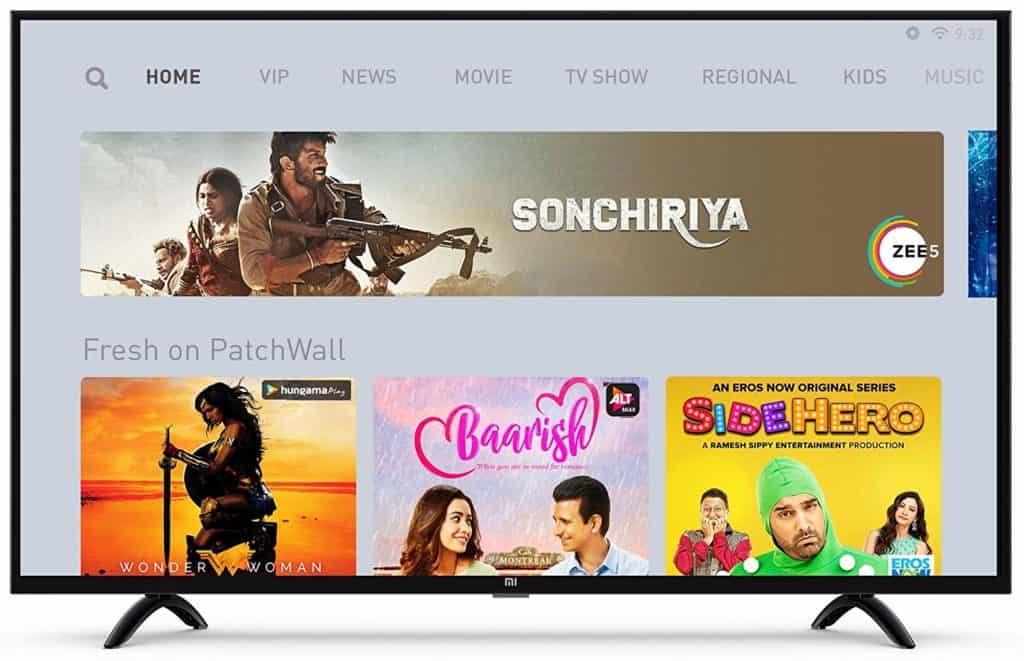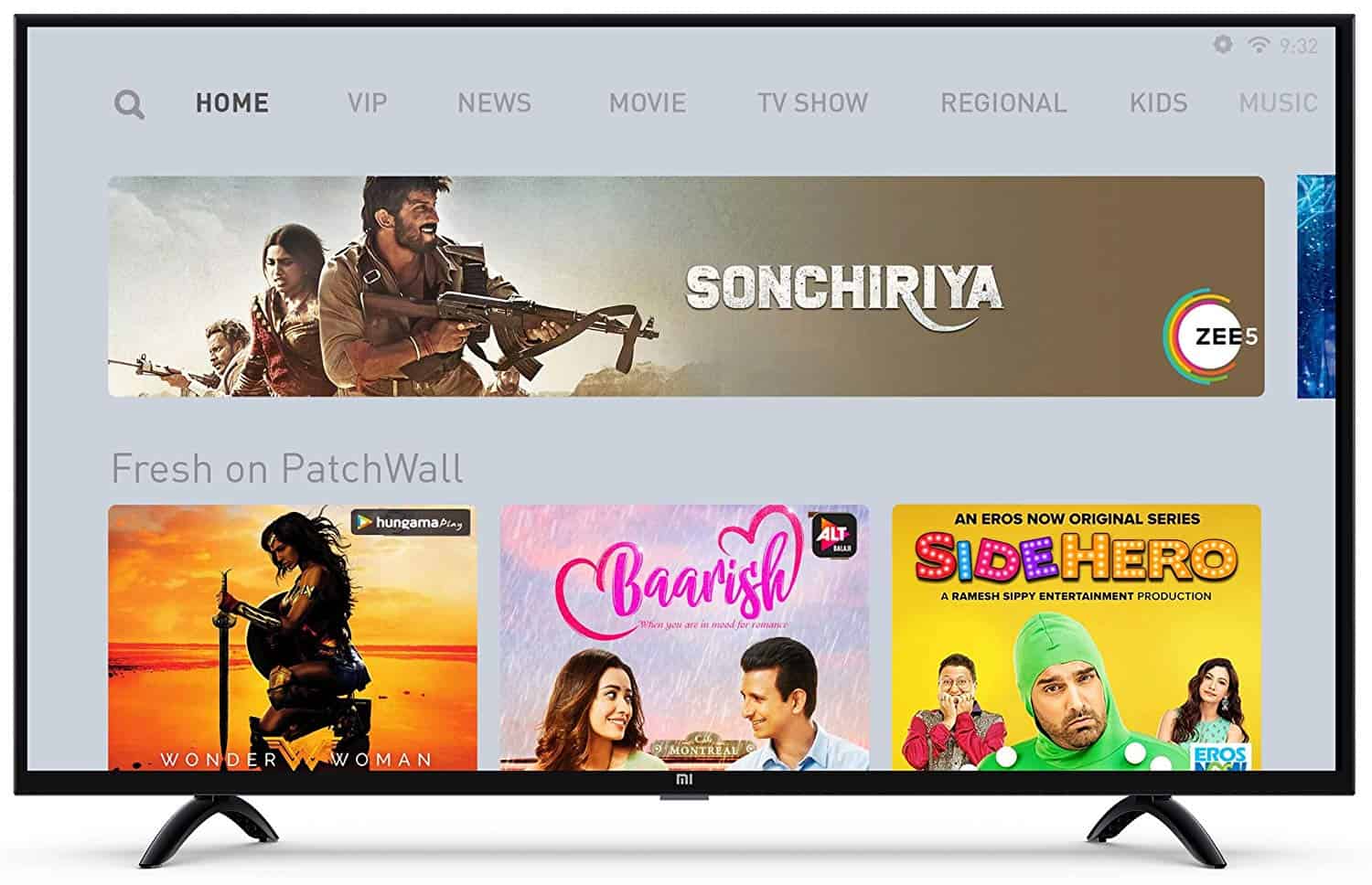 Check the Latest Price & User Reviews – Amazon India
Key Features
One of the unique features of this TV is that it comes with 3 HDMI ports as well as 3 USB ports, which is quite novel as most smart TVs from VU come with only 2 USB ports.
Tech lovers would be interested in the provision of PatchWall with a set-top box and Android TV integration.
The Mi remote with Google voice search also offers control on other Mi devices and smart devices along with the TV.
Suggested Read:
4. Mi LED TV 50 Inches 4K Ultra AndroidTV
This TV by Mi retails under 40,000 INR and comes with a 4K HDR 10-bit display.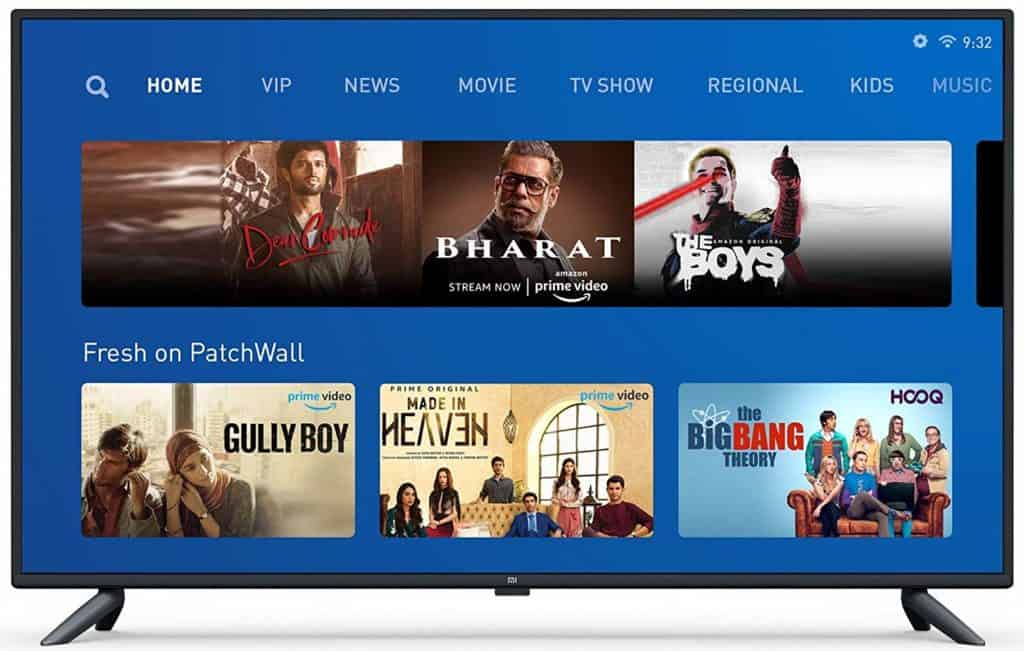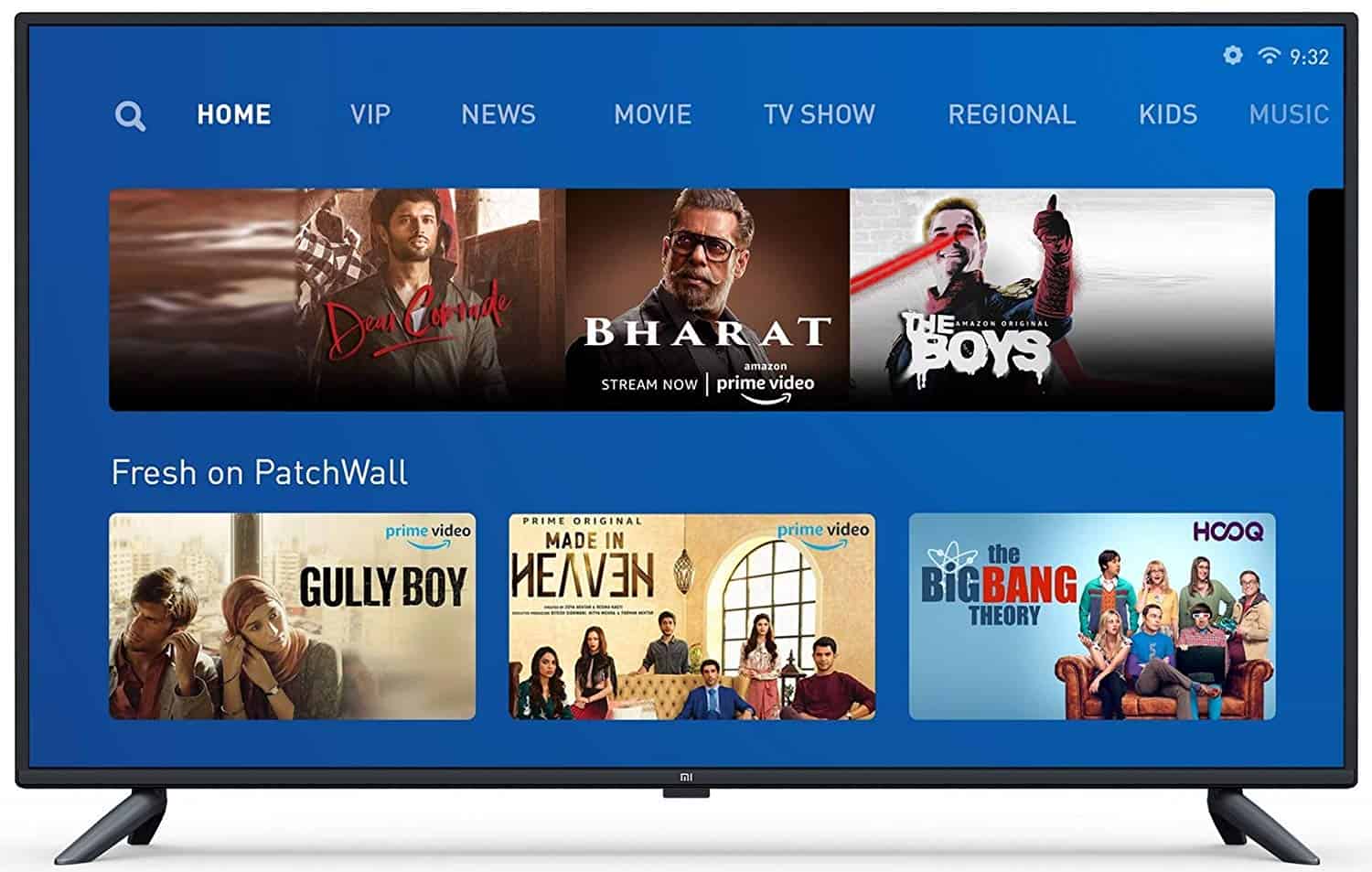 Check Latest Price – Amazon India
Key Features
The TV bears a resolution of 3840×2160 pixels but comes with a LED panel.
The model comes with Dolby and DTS supported audio system, which is a definite plus. The sound output is 20 Hertz, par with other TV models in this range.
Other features include the provision of built-in wifi, PatchWall, and supported apps such as Netflix, Hotstar etc.
The TV is supported by Android 9.0 and offers the Google Assistant Data Saver as well.
MI vs VU TV – Comparison
Verdict on General Benefits and Pricing:
In terms of benefits, Mi tries to keep it competitive by offering a host of supported applications- the usual Netflix, Prime Video, Youtube and so on, nearly the same as VU's offering in the same category. The Mi remote certainly makes the TV itself a tempting buy since the remote control can actually handle other smart devices as well, great for techies who like all their devices universally connected, and would also like to spend time configuring such changes.
The VU models are still more user-friendly and accessible to those who are not that keen on the tech side of things and care more about watching TV on a high-quality display and having access to a variety of content.
While the pricing of both Mi and VU televisions is quite competitive and reasonable, it should definitely be noted that the features offered by VU are better and higher in quality than Mi at the same or close price.
Verdict on Post-Sales Service and Customer Support:
In the VU vs Mi TV battle, another aspect to keep in mind is how the brands have been performing in terms of post-sales customer service. While both Mi and VU partner with e-commerce sites Flipkart and Amazon when selling their products via those sites, the installation process is often the company's responsibility and post-sales maintenance, repairs and replacement are also VU and Mi's duties.
Mi has been observed to charge separately for wall-mounting the TV after purchase and during installation, but wall-mounting appears to be free in many VU TV model setups. In terms of returns, replacements and repair within the warranty period, VU seems to fare better than Mi, as customers on e-commerce sites like Amazon and Flipkart continue to express displeasure about the often rude and simply uncaring way they were treated by Mi customer service.
Verdict on Build Quality:
Not only is VU more responsive to customer complaints, but it also appears that their build quality is actually better than Mi's since some of Mi TVs seem to be defective continually. An irate customer wrote that he had had to get the TV panel replaced thrice over a period of a few months since white spots and then horizontal banding kept appearing on the screen, spoiling the viewing and gaming experience- three panels, all of them defective, seem to speak a lot about the brand's product quality.
Verdict on Additional Features
Now, most of VU's budget-offering TVs seem to come with 2-3 HDMI ports and 2 USB ports, whereas Mi's LED TV 4A PRO 43 inches Full HD Android TV comes with 3 USB ports, a remarkable improvement. However, VU's range of TVs is still much wider and offers something for everyone, from the layman who just wants to watch TV and relax, to the cinema enthusiast wanting a big screen, to the gamer wanting high display and audio. Mi still has to work on such expansion, but is planning on launching more TVs soon.
Which is better Mi TV or Vu TV?
As TV Brands, both of them are really good and offer amazing value in the budget segment. Instead of comparing at a brand level, I would recommend you look at your requirements and see which model you should be buying. All four models, I recommended in the article above are worth buying.
This brings me to the end of my comparison of MI and VU Televisions in India. As I have said earlier, both of them are really good value brands and you can go with either of them safely. However, it makes sense for you to select the right model for your need.
So, Which one would you go for? Do let me know in the comments section below.
Source: