Mi is a popular brand in India that sells many electronic products. They're known for offering quality products at affordable prices. Mi is also present in the Indian TV market, launching several models with different features and prices. They normally have multiple products available in the same price range/category.
So, to make your purchase easier, I have compiled this list of the Best MI TVs in India across categories. I will be recommending MI TVs in 32 Inch, 43 Inch, 50 Inch, 55 Inch, & 65 Inch categories below.
So read on!
p.s. – Do remember that MI, Xiaomi, and Redmi are brand names of the same company. So do not get confused if you see a Redmi or a Xiaomi TV below. 
Best MI TVs in India
I have broken down this review by screen size. This will make it easier to directly scroll down and buy your preferred screen size. If you are unsure of which screen size is right for your home, refer to the table below.
Measure the space that you have in your living/entertainment room and then opt for the right screen size. Selecting the right screen size is important to ensure an optimal viewing experience and the safety of your eyes.
I have also tried to give a budget option in each category below along with my preferred television pick. So, if you are on a tight budget do opt for the budget TV option mentioned.
Best 32 Inch MI TV:
I am starting off with 32 Inch models since they are the most sought-after models in India. MI's top-selling television model online is also a 32-inch model.
I will be recommending two models in this category. The first one that I will mention is the one that I prefer. However, it is slightly expensive compared to the budget model that I will be recommending second.
But, if you have the budget do go for the first model. Since it has better looks, better speakers, more RAM (Smoother experience while browsing), and slightly better picture quality.
1. MI TV 5A Pro L32M7-EAIN (32 Inch)
MI 5A PRO model has been amongst the latest model released by Xiaomi.  It is also the best 32 Inch TV that MI has offered for sale in India – Ever!
This TV is perfect for those who are looking for a compact yet feature-packed entertainment system. With its HD resolution and smart Android interface, you can enjoy your favorite shows and movies in stunning clarity and convenience.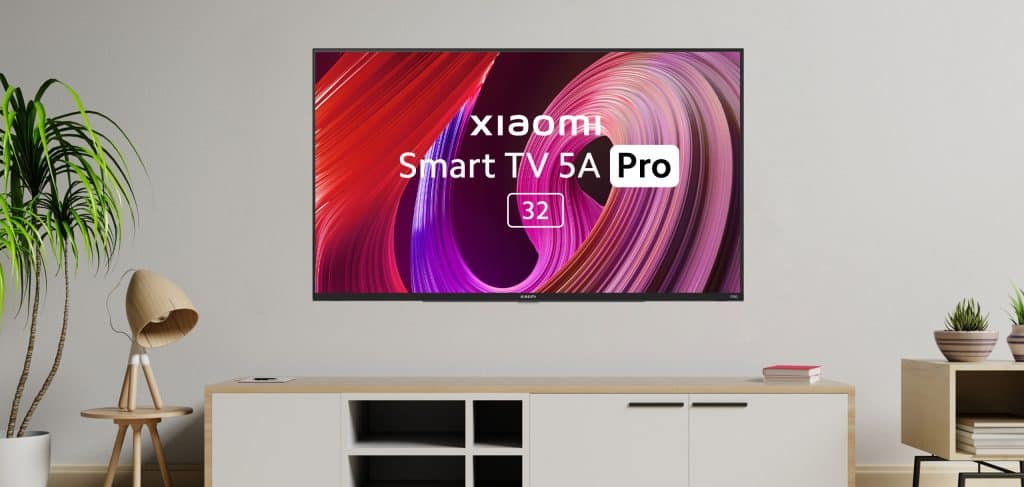 Check the Latest Price – Amazon India
Key Features:
The MI TV 5A Pro L32M7-EAIN is a 32-inch smart LED TV that provides an immersive viewing experience.
It features an HD resolution of 1366×768 pixels, delivering clear and vivid visuals.
The screen has a viewing angle of

178°

The TV comes with a 24W speaker system and DTS-X Dolby Audio technology, which provides powerful and crystal-clear sound quality.
It runs on the Android TV 11 operating system, making it easy to use and providing access to popular streaming apps.
The PatchWall user interface (UI) allows easy navigation and discovery of new content. Patchwall supports 300+ Live channels, Parental lock, and 15+ languages.
The built-in Chromecast feature allows the streaming of content from mobile devices onto the big screen.
MI TV 5A Pro is powered by a Quad-core Cortex A55 processor and 1.5 GB RAM. This ensures the TV runs without any lag while browsing content across various OTT apps.
Multiple connectivity options, including Bluetooth 5, Wi-Fi, and Ethernet, provide easy access to the internet and other devices.
The TV has multiple ports, including HDMI, USB, AV, and Ethernet, for easy connection to gaming consoles, set-top boxes, and other devices.
A sleek and modern design with slim bezels and a metallic finish adds a touch of elegance to your living space.
Google Assistant built-in allows for simple voice commands to control compatible smart devices and perform tasks.
Support future technologies like

ALLM (Auto Low Latency Mode) &

ARC (Dolby Atmos Pass-through)
MI TV 5A Pro a Closer Look:
Have a look at the video below to have a closer look at the MI TV 5A Pro
2. MI TV 5A L32M7-5AIN (32 Inch) – Budget Buy
L32M7-5AIN is the Best Budget 32 Inch MI TV in India. At the time of writing this review, this model was almost 3,000 INR cheaper compared to MI TV 5A Pro (Mentioned above).
If you have a fixed budget and do not wish to exceed the same, this TV is surely worth a buy.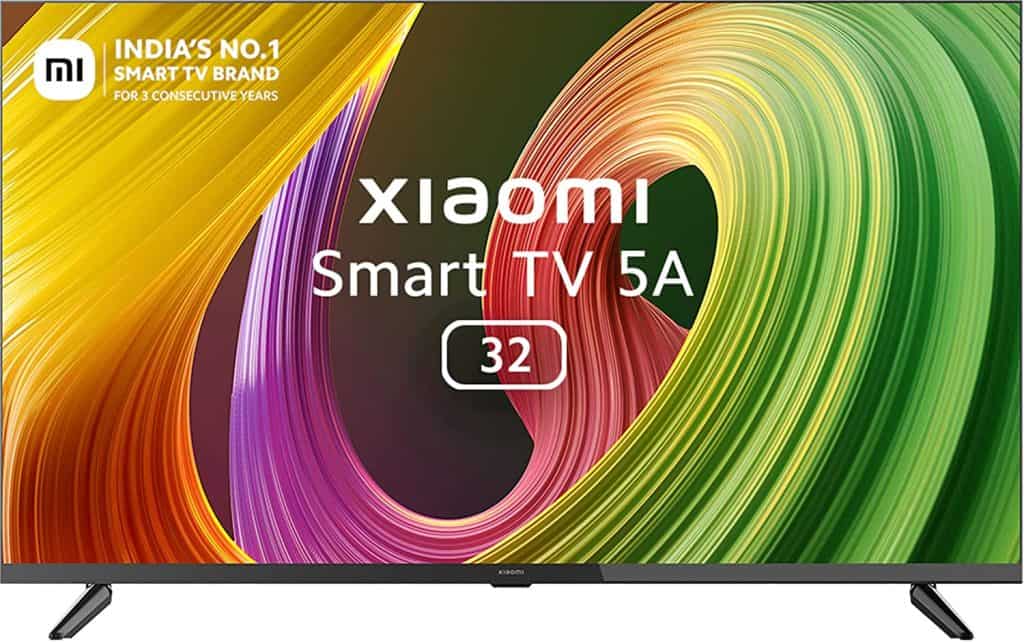 Check the Latest Price – Amazon India
The main difference between this model and the one that I recommended above are the following:
This model has 1 GB RAM while the one above has 1.5 GB
This model has an A35 Quad-core processor on it, While 5A Pro has a newer and faster processor
MI TV 5A comes with a 20 Watt speaker while the premium model recommended has a 24 Watt speaker
Overall, this model still does the job. It is a great TV model that provides immense value for the money that you spend. Do not hesitate in buying this model as well.
Best 43 Inch MI TV in India:
This is the ideal TV size for the average Indian home. We like our Movies, Dramas, and Cricket. And 43 Inch television provides us with the right balance of immersive watching experience which is not too overwhelming.
1. MI

L43M6-ES 5X Series Ultra HD TV
This is my preferred choice in the 43 Inch segment. With a premium metal "Bezel-less" design, this television will surely add to the beauty of your living room.
It also has some amazing features and performance to back up its well-justified price tag.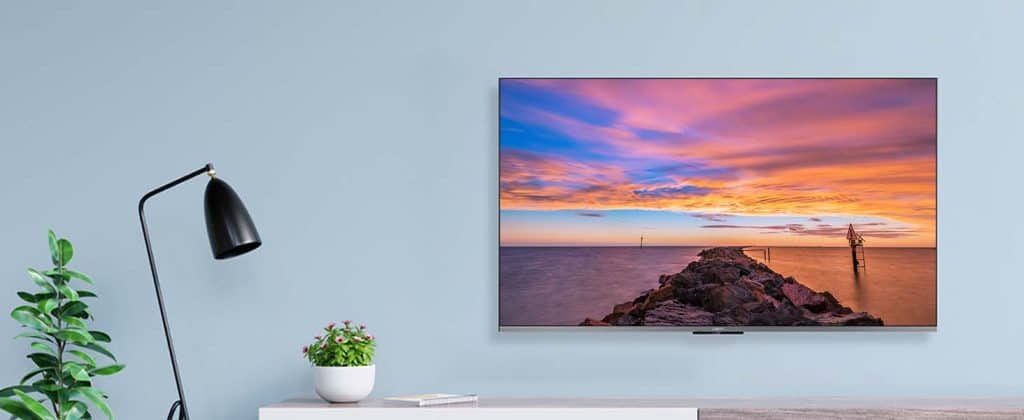 Check More User Reviews – Click Here
Key Features:
Thin bezel design for a modern and sleek look (MI Claims 96.6% screen-to-body ratio)
Android TV 10 with Google Assistant and Chromecast built-in
4K Ultra HD resolution with Dolby Vision and HDR10+ support
30W stereo speakers with DTS-HD and Dolby Audio support
MEMC technology for smooth motion during fast-paced scenes
Mi Quick Wake for instant boot-up
PatchWall 4 with over 25+ content partners for easy access to your favorite shows and movies
Mi Home app for seamless connectivity with your other Mi smart devices
Smart remote with voice control and dedicated buttons for Netflix and Prime Video
Specifications:
Available in three sizes: 43-inch, 50-inch, and 55-inch
60Hz refresh rate for smooth picture quality
Quad-core A55 processor with 2GB RAM and 16GB storage
Dual-band Wi-Fi and Bluetooth 5.0 connectivity options
3 HDMI 2.1 ports, 2 USB ports, and 1 Ethernet port for easy connectivity with other devices
VESA mount support for easy wall mounting
Energy efficiency rating of 4 stars with a power consumption of 140W
You May Like – VU Vs MI TVs in India – Which is the better brand to buy?
2. Redmi Ultra HD TV X43 | L43R7-7AIN – Budget Buy
The Redmi 43 inchesL43R7-7AIN  is a budget-friendly alternative to the Mi TV that doesn't compromise on quality.
With its 4K Ultra HD display, viewers can enjoy stunning picture quality and vibrant colors. The TV is also equipped with Android TV, which allows users to easily access their favorite streaming services and apps.
With its affordable price point, the Redmi 4K TV offers an excellent value proposition for those looking to upgrade their home entertainment setup without breaking the bank.
This model is also available in 50 and 55 Inch screen sizes. You can click the link below to check the prices of all three models.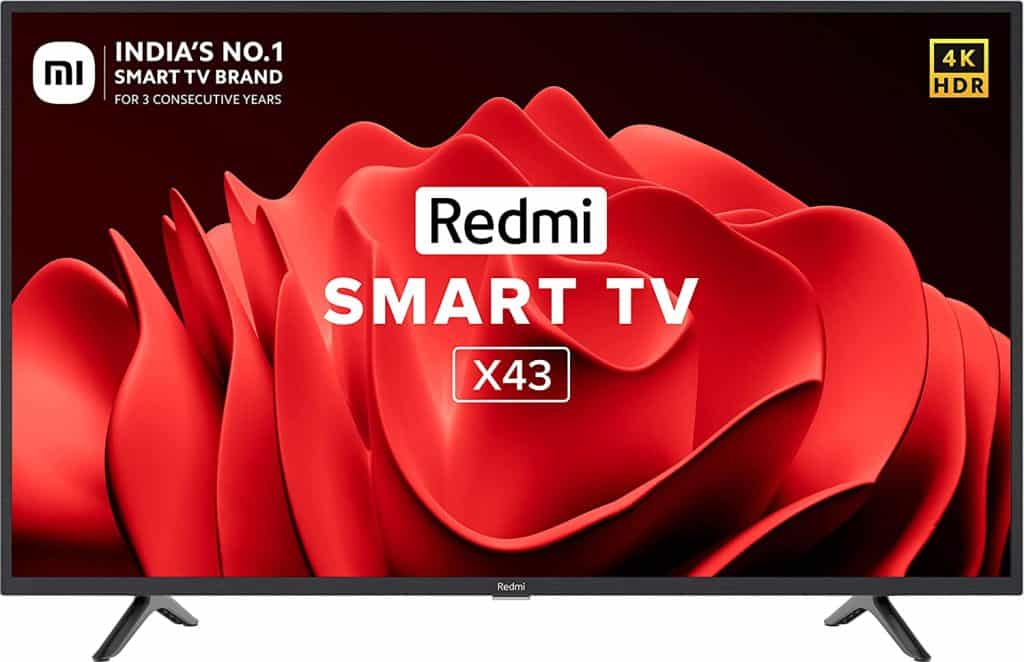 Check more User Reviews – Click Here
The main difference between this model and the 5X series is the build quality and looks. The 5X Series televisions look very premium compared to this Redmi television series.
Specification-wise, both models have very similar features. So, if you ok sacrificing the premium finish of the 5X series for additional savings, you can opt for this model.
Best 50 Inch MI TV in India
A 50-inch television might be the perfect compromise for those who want a larger screen than a 43-inch TV but don't want to go as big as a 55-inch TV.
With a 50-inch TV, you'll have a larger viewing area than a 43-inch TV, which can make watching your favorite movies and shows more immersive. At the same time, a 50-inch TV is still small enough to fit comfortably in most living rooms without dominating the space.
Many manufacturers (Including MI) offer their most popular models in 50-inch versions, so you'll have plenty of options to choose from. If you're looking for a TV that strikes the right balance between size, affordability, and features, a 50-inch TV might be the way to go.
Offers the Best Adaptive Brightness, Check the Latest Price – 50 Inch
Now, you may wonder that this is the same model as the 43 Inch I recommended above. However, be assured there are differences between these two products:
Difference Between 43 Inch and 50 Inch MI TV 5X:
Firstly, the obvious difference is the size of the display. The 43-inch model has a smaller display compared to the 50-inch model.
The 50-inch model has a higher sound output of 30W compared to the 20W sound output of the 43-inch model.
The 50 Inch Television has a slightly higher power consumption at 130 Watts compared to 100 Watts in 43-Inch
This model offers great value for money. However, if you looking for a slightly cheaper model, I recommend opting for this Redmi Model instead. You will have to compromise heavliy on the looks, but you will find almost the same features as the MI TV 5X above.
Best MI TVs in India (55 Inch)
1. Xiaomi 55 Inch Vision OLED TV or QLED TV (O55M7-Z2IN &

L55M6-EQG)
Okay, So I have chosen two products to recommend since they have a vast difference in their price points.
If you a someone who likes to buy the latest technology and does not mind spending a little extra for a superior viewing experience, you should opt for the OLED Television model that I have chosen below. I think it is easily the best television model that MI has on sale today in India.
However, if you are a bit price sensitive, and still want a really good product for your home, then opt for the second product I have linked below. I am not saying it is the cheapest 55 Inch model on sale by MI but it offers the right balance between price and performance.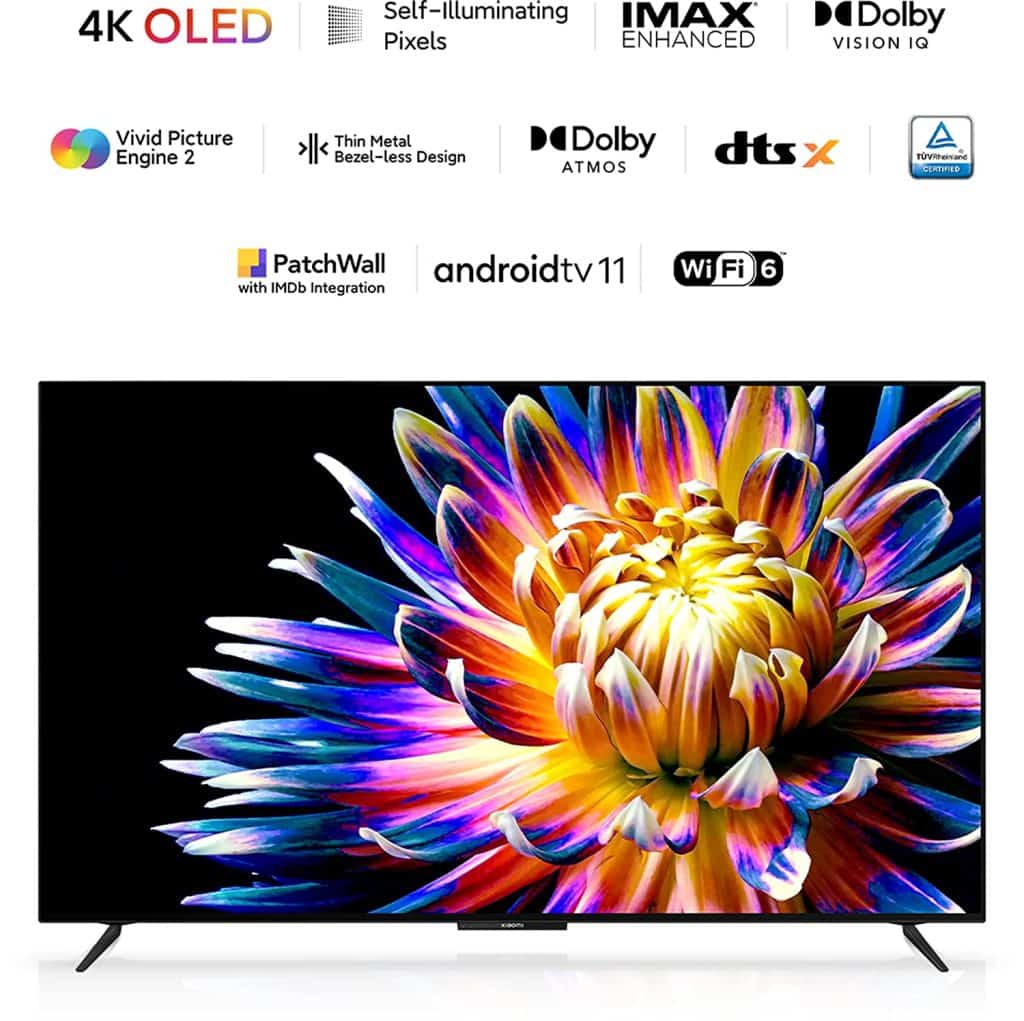 Check Prices – MI OLED TV Model | Cheaper QLED Model
To keep this article concise, I am only covering the features of the OLED model below. However, you can check the link I provided above for more details on the QLED Model as well.
Key Features of Xiaomi OLED Vision TV:
Display:
55-inch OLED display panel: provides bright and vivid visuals with deep blacks
4K resolution with 3840 x 2160 pixels: delivers crystal-clear image quality with a high level of detail
120Hz refresh rate: ensures smooth and seamless visuals, especially while watching fast-paced content such as sports and action movies
1ms response time: reduces motion blur and ghosting, resulting in sharper and clearer images
98.5% DCI-P3 color gamut: provides an extensive range of colors for accurate and true-to-life color representation
Processor and Storage:
Quad-core Cortex A73  processor: ensures fast and responsive performance, allowing the user to navigate and switch between applications effortlessly
3GB RAM: enables the TV to run multiple applications simultaneously without any lag or slowdown
32GB internal storage: provides ample space for storing applications, media files, and other content without the need for external storage
Operating System and Apps:
PatchWall OS: offers a user-friendly interface with easy access to various applications and content
Netflix, Prime Video, and other popular streaming apps: enables user to stream their favorite shows and movies with ease
Audio and Video:
30W stereo speakers: deliver powerful and clear audio for an immersive viewing experience
Dolby Atmos and DTS-X support: enhances the audio quality, making it more vibrant and immersive
Design:
Sleek design with minimal bezels: provides a modern and elegant look, ensuring the TV blends seamlessly into any living space
Metal frame: offers durability and sturdiness, ensuring the TV can withstand everyday wear and tear
Connectivity:
Bluetooth 5.0: allows for seamless connectivity with other Bluetooth-enabled devices, such as headphones and speakers
Wi-Fi: provides wireless connectivity, enabling the user to access the internet and stream content without the need for additional cables
HDMI 2.1 ports: ensures high-speed connectivity with external devices such as gaming consoles and Blu-ray players
Voice Control:
Google Assistant: enables the user to control the TV using voice commands, providing a convenient and hands-free experience
Amazon Alexa: allows the user to control other smart devices in their home and access Alexa's features and skills directly from the TV
Power Consumption:
220W: ensures energy efficiency, reducing the user's electricity bills (for the size of the screen in question)
Accessories:
Wall-mounting bracket included in the box: provides flexibility in how the TV is mounted and placed in the user's living space, ensuring a comfortable and personalized viewing experience.
Overall, the Xiaomi OLED Vision TV 55 Inch offers a range of high-end features and specifications that ensure a high-quality and immersive viewing experience. From the display and processor to the audio and connectivity options, each feature is designed to provide the user with maximum convenience, ease of use, and enjoyment. The sleek design and durable build make it an attractive and long-lasting addition to any living space.
However, if you considering the option for the QLED Model, do read my article covering the Best QLED TVs in India. You can find really good QLED models from other brands on it as well.
Closer Look:
Have a closer look at the Xiaomi OLED Vision TV in the video below:
Best MI TVs in India (65 Inch)
Let me straight get to the point!
MI doesn't have a really exciting 65 Inch television for sale as of today. Big screens demand picture-perfect screen resolution, which MI lags currently.
My honest suggestion for you would be to either opt for the Xiaomi OLED 55 Inch TV (Link Above) or the 75 Inch television that I would be recommending below. The choice would depend on the size of your room and your budget.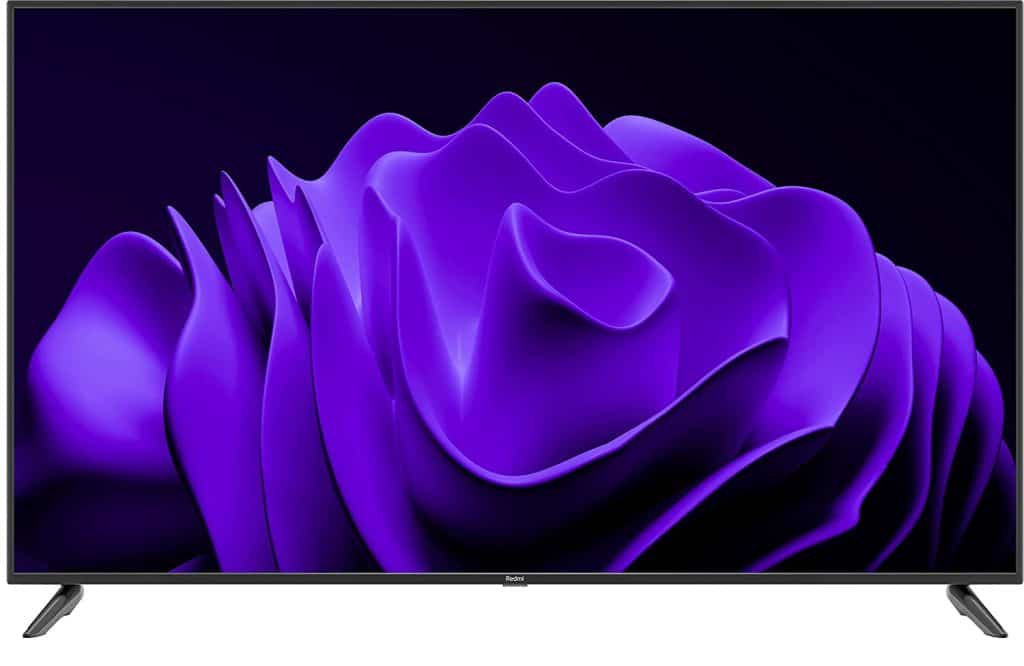 MI Budget 65 Inch TV – Click Here for Details
However, if you wish to buy a budget television set in this category, do consider Redmi X65 – L65M6-RA. Click the link above for detailed specifications and the latest price on Amazon India.
Best 75 Inch MI TV in India:
Although I would have preferred an OLED TV in this segment, the MI L75M6-ESG QLED TV is a good replacement.
With its 4K Ultra HD resolution and QLED technology, the colors are vibrant and the details are sharp. It's a smart TV, meaning you can connect it to the internet and access all kinds of apps and streaming services.
It's perfect for movie nights or binge-watching your favorite shows. Plus, at 75 inches, it's big enough to make you feel like you're part of the action. Overall, if you're looking for a top-of-the-line TV, the Mi Q1 Series is definitely worth considering.
Check the Latest Price in India – Click Here
Key Features of MI Q Series TV (75 Inch):
The MI Q Series 75 Inch TV has a screen size of 189.34 cm, making it one of the largest televisions available in the market.
It has a 4K Ultra HD resolution, which means the picture quality is very sharp, and the details are clear.
The MI Q Series TV uses QLED technology, which produces vibrant colors, deep blacks, and a high level of brightness.
It's a smart TV, meaning you can connect it to the internet and access various apps and streaming services, such as Netflix, Amazon Prime, and YouTube.
It runs on Android TV 10, which is user-friendly and has a lot of features.
The TV has a 120Hz refresh rate, which makes the motion on the screen smooth and fluid.
The MI Q Series TV has a 30W speaker system that produces clear and rich sound.
The TV has HDMI and USB ports, allowing you to connect external devices like gaming consoles, soundbars, and more.
The MI Q Series TV has a sleek and slim design that looks stylish and modern in any room.
The TV comes with a 1-year warranty, and MI offers after-sales support and service centers across India.
Frequently Asked Questions about MI Televisions:
1. Is MI an Indian Brand?
MI is a Chinese brand that was founded in 2010 by Lei Jun and six others. The company's headquarters are located in Beijing, China. While MI is not an Indian brand, it has gained a significant presence in India in recent years, and many of its products, including smartphones and televisions, are very popular in the country. MI has also set up manufacturing facilities and service centers in India, which has helped it to establish a strong foothold in the Indian market. (Source)
2. Are MI Televisions Made in India?
MI manufactures a lot of its televisions in India through local production facilities, but not all MI televisions sold in India are made in India. MI imports some of its televisions/spares from China and other countries and sells them in India.
However, MI has made significant investments in India over the past few years, including setting up manufacturing facilities in the country. As a result, the company has been able to increase its local production of televisions in India, which has helped to create more jobs and promote the government's "Make in India" initiative.
3. Why are MI TVs Popular in India?
MI Televisions are popular in India for several reasons. Firstly, MI is known for offering high-quality products at affordable prices, which makes them accessible to a wide range of customers in India. Additionally, MI has invested in building a strong presence in India.
With a large network of retail stores, service centers, and online channels makes it easy for customers to purchase and use their products. MI Televisions also come with advanced features like 4K Ultra HD resolution, QLED technology, and smart capabilities, which offer a superior viewing experience.
Finally, MI has a reputation for excellent after-sales service and support, which has helped to build customer trust and loyalty. All of these factors have contributed to the popularity of MI Televisions in India.
4. What is Patchwall?
PatchWall is a unique feature in MI TV that helps you to find and access content easily. It's like a personalized homepage for your TV, where you can see all the content available on different apps and channels.
PatchWall organizes content based on your preferences and viewing habits, so it recommends the shows and movies that you're most likely to enjoy. It also has a universal search feature that lets you search for content across different apps and platforms. PatchWall is easy to use and helps you to discover new content without having to search through multiple apps and channels.
It's a great feature that makes MI TV stand out from other brands. (Source)
5. Is Content Free on Patchwall?
No, content is not free on PatchWall. PatchWall is a feature in MI TVs that helps you to find and access content easily, but you still need to subscribe to the relevant apps or channels to watch the content.
For example, if you want to watch a movie on Netflix, you need to have a Netflix subscription. Similarly, if you want to watch a TV show on Amazon Prime Video, you need to have an Amazon Prime subscription.
However, PatchWall does make it easier to find the content you want to watch, as it organizes it in a way that's personalized to your preferences and viewing habits.
6. Is MI TV Good?
Yes, MI TV is very good! MI is known for offering high-quality products at affordable prices, and MI TVs are no exception.
MI TVs come with advanced features like 4K Ultra HD resolution, QLED technology, and smart capabilities, which offer a superior viewing experience. MI TVs also have a reputation for being reliable and durable, which means they will last you a long time.
Additionally, MI offers excellent after-sales service and support, which means if you have any problems with your TV, MI will be there to help you. Overall, MI TV is a great choice if you're looking for a high-quality TV that won't break the bank!
7. What is the average Life Span of MI TV?
The average Life Span of an MI TV can range from 4 Years to 9 Years i.e 35,000 hours to 80,000 hours. It all depends on your usage and the environment the TV is used.
The average life of an MI TV can vary depending on how well it's taken care of and how often it's used. Generally, an MI TV can last for several years if it's used and maintained properly.
MI TVs are known for being durable and reliable, so they should last you a long time if you take good care of them.
Additionally, MI offers excellent after-sales service and support, which means if you have any problems with your TV, MI will be there to help you.
It's also worth noting that the lifespan of your MI TV can be extended if you use it in a cool and dry environment and avoid exposing it to moisture, dust, or extreme temperatures.
This brings me to the end of my review of the Best MI TVs in India. I hope you were able to buy the right television set for your needs. If you have any further questions, do feel free to reach out to me using the comments section below.