At the end of a long day, during leisurely weekends, one form of entertainment most of us look to is watching television. Nowadays with so many television models available in the market, choosing the perfect one is a problem of plenty.
Which brands are affordable? What screen size to go for? Luckily, your search can be narrowed down easily to one of the best television brands, VU Televisions. Here I present you with a list of Best VU Televisions in India to choose from for the optimal viewing experience.
Summary – Which VU TV to Buy?
In my personal viewing experience, the TV I found the best from VU Televisions is this 43 Inch Full HD Smart TV. This model, I believe, offers the most value for money.
However, if you are looking for something more budget-friendly, you should definitely go for this 32 Inch HD Ready Model. This same model is available on Flipkart too, so do make sure you click here to compare prices on both websites before you buy it.
But if you in the market to buy an Ultra HD 4K television, then this series by VU is your best bet.
Best VU Televisions in India
1. VU 32 Inch HD Ready Smart LED TV
Available almost always at discount at the price of only a little more than 10,000 INR, the VU 32 Inch HD Ready model is a great budget buy if you're content with slightly smaller screen size.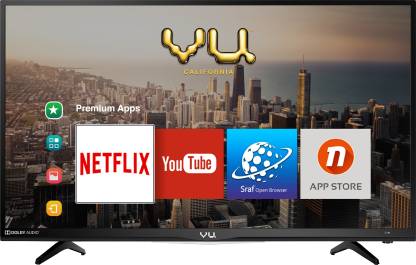 Compare Latest Prices  – Amazon India | Flipkart
Features
It has a great resolution of 1366×768
20 Watts sound output with Dolby Audio and DTS Studio Sound heightens the auditory experience.
Adaptive contrast and high brightness allowed me to watch without having to strain eyes.
2 HDMI ports and 2 USB ports are available. I could easily connect the set-top box, my gaming console and
USB devices as well.
Pros
I found this TV to be great value for money with features much better than other budget TVs available, making it one of the best VU TV in India
Sound clarity is quite high.
It is Android 9 supportive.
Cons
No voice search remote available currently, which is a definite downside.
There is a slight lag in phone mirroring.
2. VU 43 Inch Full HD Smart LED television
This TV ranks among the best VU Televisions in India currently due to the high resolution, screen size and great sound quality. One of the important criteria of this model being on the list is the price. It is way cheaper compared to other top brands like LG & Samsung.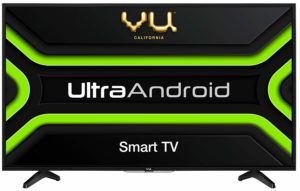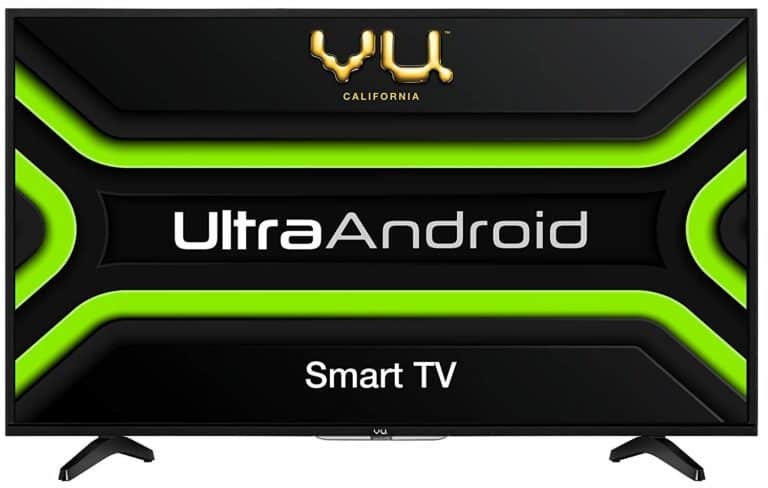 Check the Latest Price & More User Reviews – Amazon India
Features
The refresh rate is 60 hertz, which is pretty speedy, even for an impatient user like me.
I loved the Full HD resolution of 1920×1080; it is quite at par with other leading TV brands today.
The TV comes with additional features such as licensed apps including Netflix, Hotstar and more, but that is standard for most smart TVs these days.
You May Like – Best 43 Inch Smart TVs in India
Pros
The TV comes with a wall mount, which I found very convenient.
As a customer noted, the TV offers great visuals from a distance of as much as 15 feet, which is quite decent.
Cons
In general, I found remote control responses a bit slow, which might get worse over time.
Sound quality is good, but as some other users also noted, background sound often overpowers the dialogues and narration in many cases. That should be looked into.
3. VU 65 Inches 4k Ultra HD Smart TV
For people with a bit higher budget, this one is a good choice because of the enhanced features it offers, and of course the large screen size, giving a home theatre experience.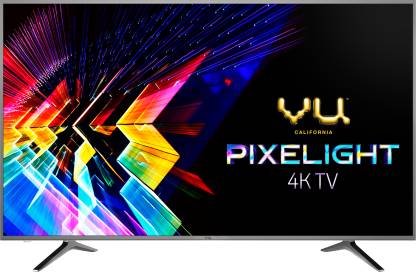 Check Availability & Latest Price – Flipkart
Features
It has a super high resolution of 3840×2160, 4 Ultra HD.
It comes with 3 HDMI ports as compared to most other models' 2 ports offered and 2 USB ports.
The TV comes with an A+ grade IPS panel and is an Android-based Smart TV with a quad-core processor.
All major apps like Netflix, Amazon Prime, Hotstar, Youtube etc are already configured on the remote control
Comes with HDR10 display, which makes the 4K picture quality even more stunning
The adaptive contrast is a really nice feature. You can adjust the screen settings based on whether it is day or night time
Comes with built-in Dolby and DTS sound technologies
The AnyCast functionality lets you cast any content from your smartphone on to your smart tv
Comes with a special cricket mode for better viewing of matches
To understand the features better, you can also watch the video below:
Pros
The display really is very good and makes the visual experience enjoyable.
The build is premium, the design is excellent and the model is sturdy.
Cons
4. VU 40 Inch Full HD UltraAndroid LED TV
This is a newer model by VU, launched in 2019 and can be purchased at discount from Amazon at less than 20,000 INR.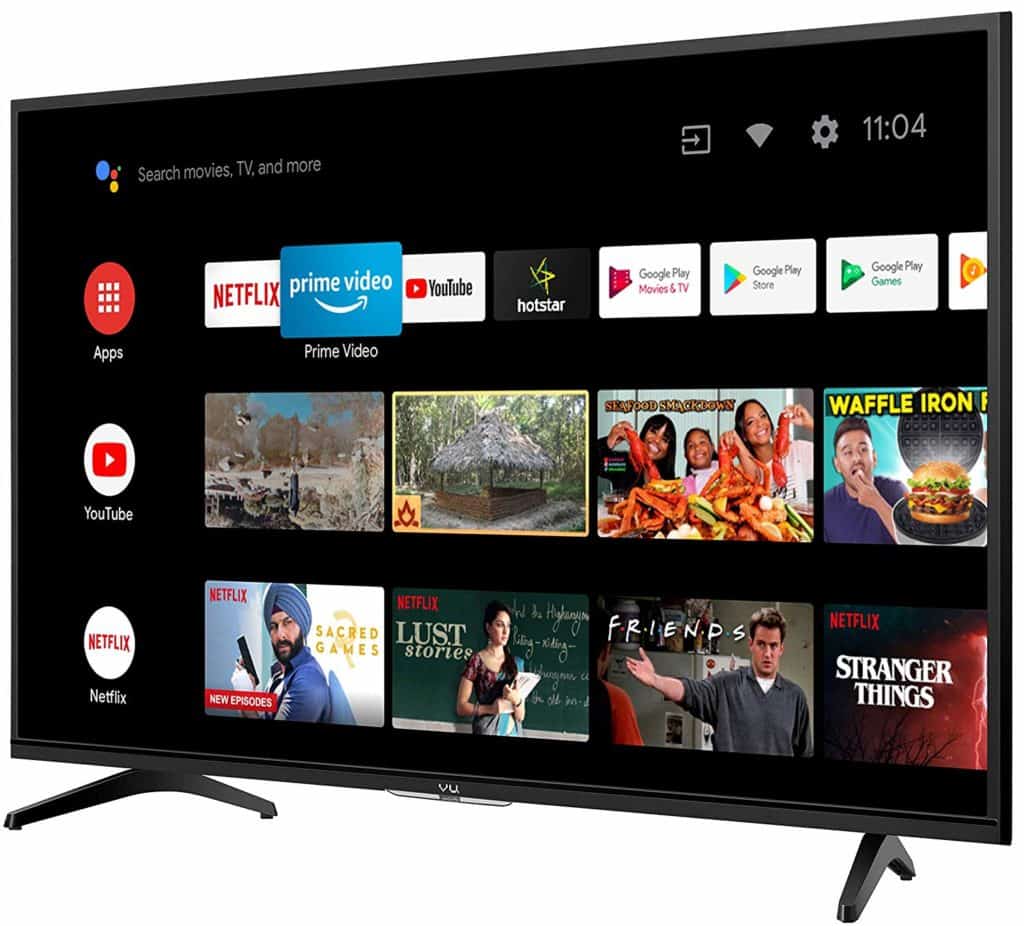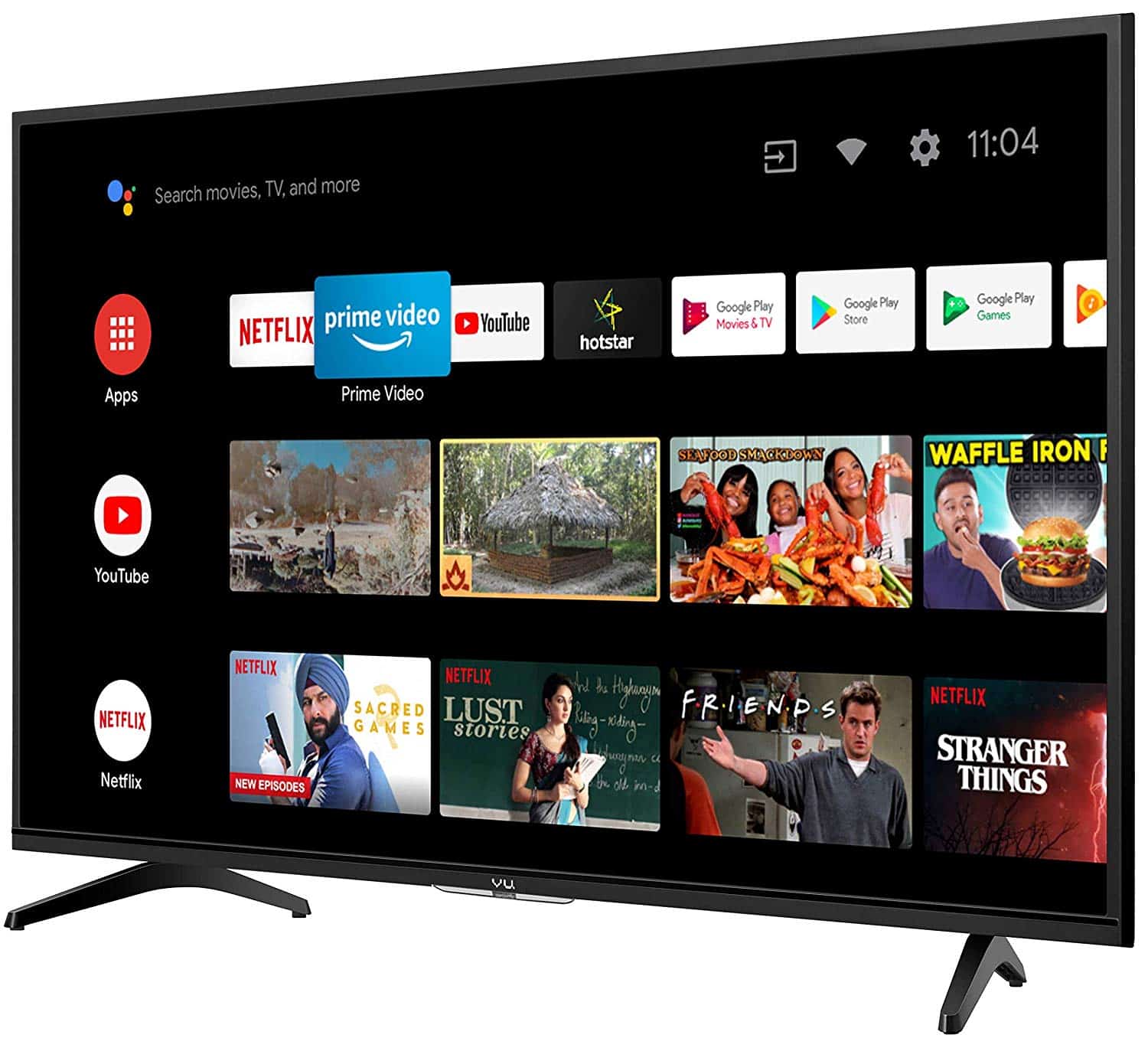 Check the Latest Price & Discounts – Amazon India
Features
The sound output is 24 W, and like its 43-inch cousin, it comes with a resolution of 1920×1080 as well as refresh speed of 60Hz.
The remote control has four special buttons to launch Netflix, Prime Video and Youtube instantly, which is a plus.
Pros
The visual features contain, along with adaptive brightness, Cinema mode and Natural mode, customizable to the lighting you are watching TV in. I found this really helpful.
Screen mirroring for this model is superb and there are no lags. For me, this makes it one of the best VU televisions in India.
Cons
Android apps don't seem to run that smoothly on this TV. A user stated that only basic smart features could be enjoyed with this TV, not a pure Android experience.
5. VU 50 Inch Pixelight 4K HDR Smart TV
Technically in the range just above 40000 INR, this TV is often available below 30,000 INR on Amazon and Flipkart. You can buy at the link provided below the image.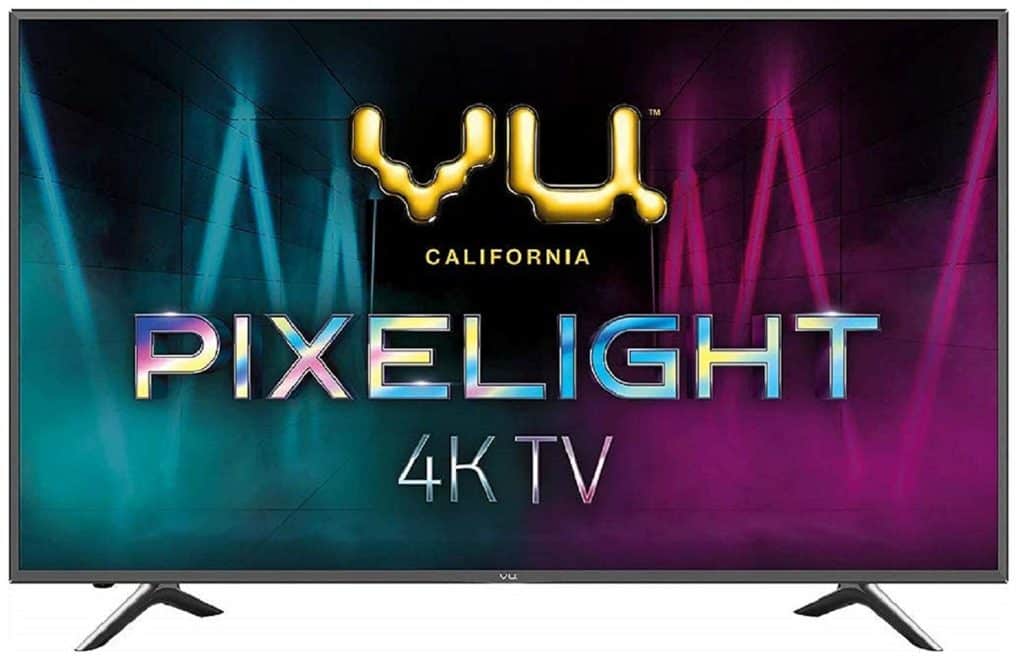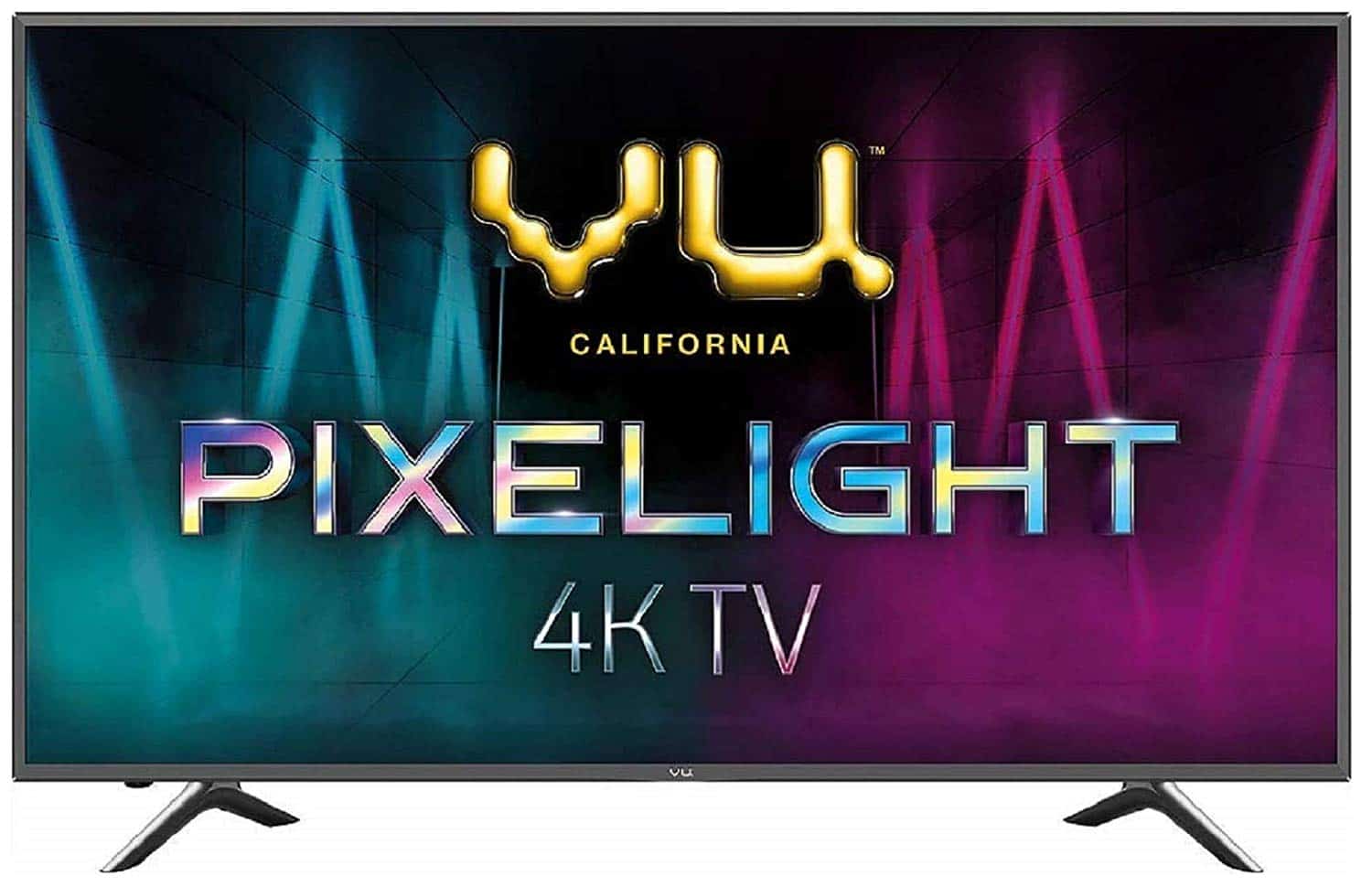 Check More User Reviews – Click Here
Features
This TV comes with a complete Dolby ecosystem, from audio to visuals and HDR 10 technology.
It has 3 HDMI ports and 2 USB ports and a dual-core processor. The system is Linux based.
Pros
This TV comes with a voice-sensor remote, which I think is a great addition.
The IPS Panel and Dolby Visuals, as well as audio, make for a wonderful experience.
Cons
The dual-core processor slows the system a bit after continuous use, which may not be acceptable to many users at the price.
Side viewing angles are not great in the display, but that's not a major drawback.
FAQs about VU TV in India
Is VU a good brand?
Absolutely Yes. VU is a really good brand. VU is the brand for you if affordably priced, decent quality smart TVs are what you're looking for. At the price paid, VU TVs are a solid choice if you don't want extra fancy features.
Is VU worth buying?
VU Televisions is a reliable and rising brand easily available in the Indian market and is worth buying if you want a well-functioning standard Smart TV within a limited budget.
Is VU an Indian Brand?
VU Televisions is not an Indian brand; it is a US-based company. However, the founder of VU is Devita Saraf, an Indian entrepreneur, and the company caters massively to the Indian audiences.
Are they manufactured in India?
VU Televisions are manufactured in China, acquiring components from Taiwan, Japan and South Korea as well. The design and research for the televisions are, however, done in India, and the founder of VU hopes to set up manufacturing in India soon.
This brings me the end of my review of the Best VU Televisions in India. Overall, VU TV is a solid, reliable brand which is easily available in the Indian market and on online e-commerce platforms like Amazon and Flipkart.
Which one will you pick? Do let me know in the comments section below.
Also, do feel free to ask any further queries that you may have below too.