This review post was amongst the most difficult posts that I wrote on i4c ever. It took me 4 days just to the differences between Redmi 32 Inch TV vs Xiaomi TV 5A vs MI 4A Pro (32 Inch). I spoke to MI support staff multiple times to find out if there really was any difference between these three very identical models.
However, I have finally researched enough to come up with my recommendation below.
Conclusion: Which TV model to Buy?
First off, Redmi, Xiaomi, and MI are brand names of the same company (A few people actually do not know this).
Let me begin by saying that there is hardly any difference in the specifications of these three models (only 32-inch models).
There are only two differences between these models. First is the outer panel look + branding. The other main difference is the launch dates. I would hence recommend buying this model, as it is the newest among the three (was launched in July 2022)
There are also some differences in connectivity options. I have covered them in detail in the section below.
Review: Redmi 32 Inch TV vs Xiaomi TV 5A vs MI 4A Pro
In this section, we will review the functionality and features of all three television models listed above.
1. Display
All three models come with an "HD-Ready" screen. Which means a display resolution of 1366 x 768 pixels. Please do note that the 40 and 43 Inch models of Xiaomi 5A Series have a higher resolution.
The models have a viewing angle of 178 degrees, which is sufficient for an average household.
Auto Low Latency Mode has been integrated by default.
2. Speakers
All three televisions come with 20W speakers powered by Dolby Audio.
You might get confused with some websites claiming that the MI 5A series TV comes with a 24 Watt speaker. But that is true only for their bigger screen models. The 32 Inch model is fitted with 20 Watt speaker only.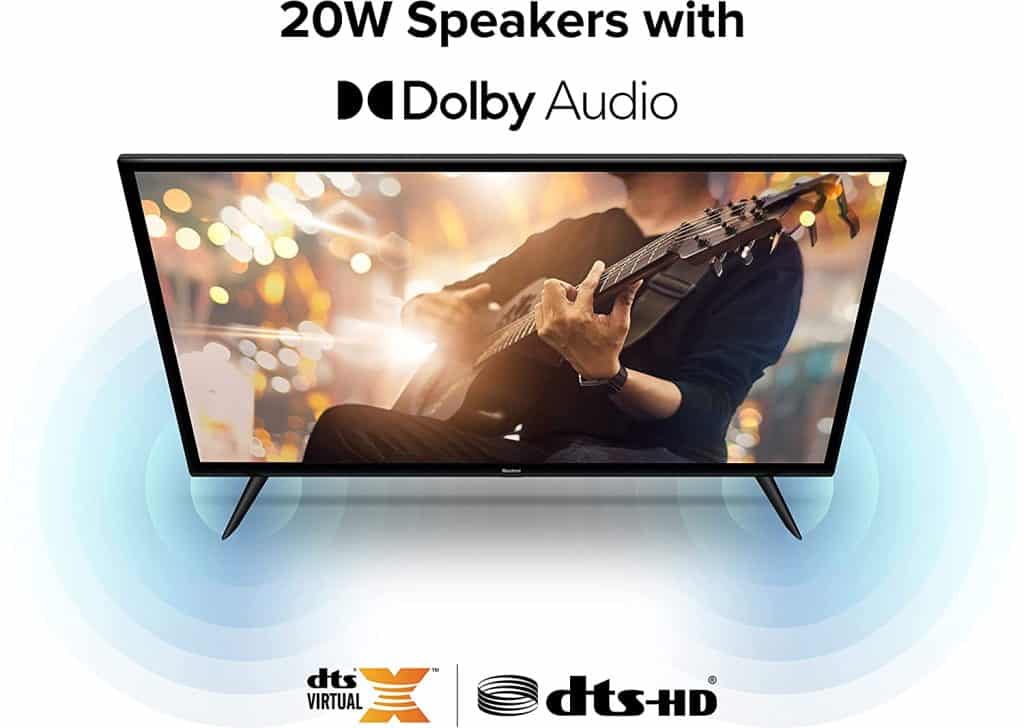 Check the Latest Price on Amazon India – Click Here
3. Connectivity:
The MI 4A Pro being the oldest model, does not support Bluetooth 5.0 and Wifi 5 Ghz frequency. It does support the 2.4 Ghz wifi channel.
MI 4a Pro does seem to have an additional HDMI port.
Both the other models have 2 x 2.0 USB ports, 2 HDMI ports, 1 Ethernet port, Bluetooth 5.0, and Wifi 2.4GHz/5GHz.
4. Software:
All three models are powered by the proprietary Patchwall software developed by Xiaomi based on the Andriod platform.
They come with all standard features like IMdB integration, and Parental Lock, Supports 15+ languages, and Universal Search. Supports all major OTT apps like Hotstar, Amazon Prime, Netflix, Zee, etc
You can easily use the Ok Google voice search functionality which has Chromecast built-in by default.
You May Like – MI vs VU (Which is the better Brand?)
This brings me to the end of my comparison post on Redmi 32 Inch TV vs Xiaomi TV 5A vs MI 4A Pro (32 Inch). I hope I was able to help you buy the right television model for your home. Which one do you think is the better Xiaomi TV Model?
Which one did you opt for? How is it working for you so far? Do let me know in the comments section below.