In this article, I would be comparing the top-end Xiaomi Mi Televisions. Mi TV 4 Pro vs 4X vs 4A Pro. With so many models to choose from, you bound to have some confusion while picking the right model. But do not worry, I put in the hard work to compare these models on your behalf.
But first!
If you are not a geek and do not wish to go into the technical details, just refer to my recommendation in the summary section below.
You can opt for that model with eyes closed.
---
Summary: Which Model to Buy?
I am sure most of you are here to compare Mi TV 4 Pro vs 4X. Between these two models, I strongly recommend opting for this model.
It is the latest of the two models. A lot of drawbacks of the older model were fixed in the newer one. I will discuss these features in detail in the article below.
Xiaomi Mi 4A Pro's most popular model is 43 inches in size. While both 4 Pro and 4X Pro are 55 Inch televisions. So, if you are on a budget, opt for 4A Pro – You can check out more reviews about the same by Clicking Here.
If you are planning on buying 4A Pro, then I also recommend you read my comparison post on 4A Pro vs 4C Pro before hitting that buy now button.
---
Comparison – Mi TV 4 Pro vs 4A Pro vs 4X
Before I begin comparing these three models, let me clarify something. The 4A Pro model comes in 3 different size variations. 32 Inch, 43 Inch and 49 Inch.
At the time of writing this review, the 49 Inch model was not available on both Flipkart as well as Amazon India websites. So I will be taking that model out of consideration.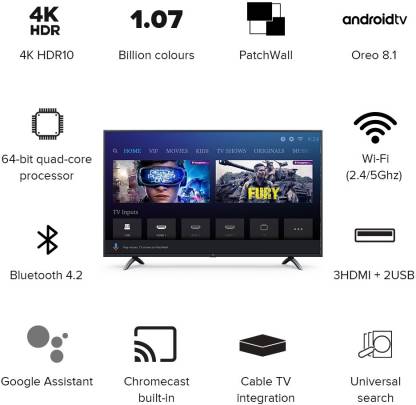 The 32 model is simply too small to be compared correctly with 55 Inch 4X Pro and 4 Pro versions.
So the only model worth considering the 4A Pro 43 Inches.
The table below will help you visualize the difference better.
One glance at the table above should be enough to help you understand the key differences between these models. To summarize, they are as below:
4 Pro and 4X Pro models are technically very similar. The main difference between the two is that 4 Pro is slimmer but that impacts the quality and robustness of that model. The 4X Pro is an all-rounder. While the 4A Pro has the least amount of features, it is also the cheapest of the three models in question.
I will talk about them individually in the sections below.
Mi TV 4 Pro vs 4X Pro
Ok, so let us start by comparing these two 55 Inch television sets. Let me start off by listing down the similarities first:
Both these products come with 55 Inch sc
reen size.
They sport an ultra HD screen with a resolution of 3840 x 2160.
Both of them have Mi's proprietary PatchWall interface but also support Andriod tv.
They have the exact same processor, memory and RAM built-in.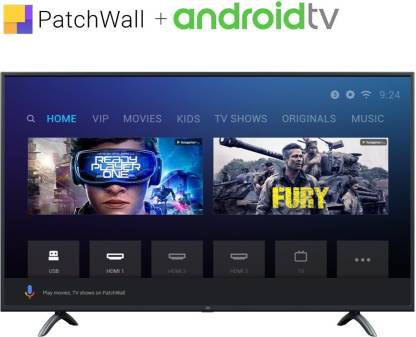 However, they do have their differences. I will list them down as bullet points below.
The 4 Pro is a slim television set while the 4X Pro has a regular width. This makes the 4 Pro look much better compared to its counterpart.
However, this slim frame size comes with its own problems. It can get damaged easily during transportation. The backlight system is of 4 Pro is not that well designed due to lack of space.
This means the 4X pro not only has a better display quality but also a better-built quality.
The 4X Pro is the newer version of the two and is powered by 2 x 10-watt speakers as opposed to 2 x 8-watt speakers in 4 Pro.
Which one do I recommend Buying?
Well, the answer is simple isnt it? I would strongly recommend buying the newer model, which has better picture quality, robust build quality and better sound quality. That model is the 4X Pro (55 Inches)
If you wish to see this product up close and also understand some of its features more visually, then I recommend watching the video by Flipkart below:
Mi 4A Pro vs 4 Pro & 4X Pro
This section is for those people who are considering buying the 4A Pro and are thinking if it's worth upgrading to either the 4 Pro or 4X Pro.
Well, my simple answer to this question is – Yes.
If you have the budget and a living room that will accommodate a 55-inch television then you should surely upgrade and buy the 4X Pro.
However, if that is not the case, then the 4A Pro (43-inch) model is not a bad option in itself. For the price that you are paying for this model, it is surely a value buy.
If you are still confused, do read my article Mi TV 4A vs 4A PRO vs 4C PRO.
This brings to the end of my article comparing Mi TV 4 Pro vs 4X Pro vs 4A Pro. I surely hope I was able to help you buy the right television for your home.
So, which one did you opt for? Have you experienced a Mi TV before? What were the initial reactions? Do you have any further questions?
Do feel free to use the comments section below to write back to me.
References: