In this article, I will be comparing VU Pixelight vs iFFALCON k31.
I will discuss these two television sets with you by comparing their technical features, price, guarantee, etc. Both these products, iFFALCON by TCL AI-Powered K31 and VU Pixelight 4K HDR Smart LED TV 50QDV, have some amazing review and great features.
So, which one has the edge?
Let's find out!
Summary – Which Television Model to Buy?
For someone who is looking for a quick recommendation, I strongly suggest opting for this model. This recommendation is applicable for all three screen sizes i.e. 43 Inch, 5o Inch and 55 Inch.
This same model is also available on Flipkart. So do make sure you click here and compare prices on both these platforms first before buying.
However, if you are looking to buy an Android TV, then you should opt for this model. The model above is built using a Linux based operating system. (But it does support casting from your Android phone)
p.s – Make sure you watch both the video in this article, added towards the end.
VU Pixelight vs iFFALCON k31
Now let us proceed with the detailed comparison of the two models at hand.
Before proceeding to discuss the features and technicalities, there are certain aspects that are not technical that I would like to bring to your knowledge.
From an aesthetic point of view, both these products are sure to add beauty to your living room. Both these products can be wall-mounted or placed on a surface (Table-top) if that is what you want.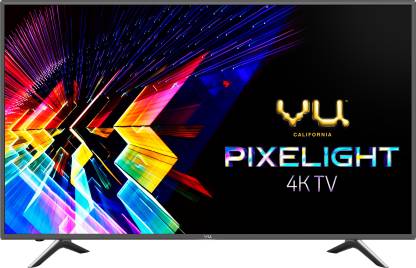 Check out More User Reviews – Click Here & Here
Coming to reviews, both products rank more or less similar. Based on the difference of 0.3 (4.3 for iFFALCON and 4.0 for VU Pixelight) stars between them, we can safely assume their quality and features give close competition to each other.
Moving on to the important part – the technical aspects and other features, let's put them in a tabular form for better comprehension.
Comparison Table:
And voila, this table though might reduce the difficulties you face while buying a product to a great extent is inclusive but not exhaustive. Some other features, not talked about in the table shall be touched upon here.
Similarities:
Although these are two different products from different manufacturers, a lot of similar features can be found between them.
Both the products offer a warranty of one year.
Both of these products offer remote control with voice recognition.
Differences:
Evidently, the similarities render decision-making more difficult. So let's check out the differences between the products to see which one wins over what.
Weight of the product:

Speaking of the weight of the product, between both these products, VU Pixelight is heavier with a weight of 13.5 kg, while Iffalcon k31 weighs a total of 10.2 kgs including its stand (10 kgs without the stand).

Price of the product:

Coming to the decision-maker in most cases, the price of the products. VU Pixelight is priced slightly higher than Iffalcon k31.

Customer Reviews:

The features and the technical aspect can guide you. But the reviews of the customers, who bought this product just like you, can throw a lot of light.
By the looks of it, Iffalcon k31 seems to be a more popular choice with a whooping 1804 reviews, and it is important to note that these reviews are mostly in praise of the product.
You May Like:
iFFALCON K31 Review:
Wall-mount or Tabletop:

It is advisable to wall-mount this model since it seems to have been designed especially for that. This design also makes it appear a little fragile.

Sound, picture quality, and display:

Apparently, the product has excellent sound quality, and an additional speaker is not required. The AI Voice Interaction improves the audio quality as per requirements. Certain customers have qualms with the picture quality, and a minimum of 720p is recommended. There is also a constant suggestion to improve the black definition, which affects the image. In fact, quite a lot of reviews specify that the black definition is the only problem. The display is set at 100% by default. Hence, brightness and contrast are not clear.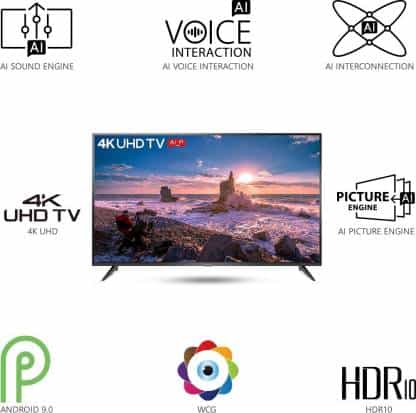 Connectivity and viewing angles:

Connectivity is generally not an issue, but in certain cases, connecting to the apps, especially YouTube has been a problem, which demanded a reboot for the error to resolve. Some reviews say that the viewing angles are a problem, and once you shift a bit instead of sitting right in front of the TV, it becomes worse.
Apart from some specific complaints about the black definition and the viewing angles, the general review of this product is great.
To have a close look at this model, I recommend watching the video below by Flipkart.
VU Pixelight Review:
Moving on to the other product, VU Pixelight which also has some straight forward reviews:
Wall-mount or Tabletop:

The reviews do not specify anything. Hence, it is totally the customer's choice.

Remote control:

The one thing that seems to have impressed many is the direct keys for the app that are supported like Netflix, Amazon Prime, etc. on the remote control.

Connectivity and viewing angles:

Generally speaking, the connectivity is amazing. The Chromecast is not in-built. Hence, for apps like Hotstar, you can use the inbuilt Anyview casting technology and directly cast any Hotstar video from your phone.
The side viewing angles are not that great. But you the cost of the television easily makes up for it.
Sound, picture quality, and display:

It has an IPS screen. Display and sound are outstanding as per the reviews. However, colour distortion has also been reported. It also comes with a dedicated Cricket Mode to ensure you get great quality while watching cricket matches.
Recommended Reading – Oneplus Q1 vs Q1 Pro – Compared
Again, I recommend watching this video by Flipkart below to get a better understanding of this product.
On the whole, this product has not been criticized much for anything specific and called a "value for money" in general.
After taking all these points into consideration, it is quite a simple decision to make. My personal recommendation would be to opt for the VU Pixelight.
Go on, make your choice and add that dash of life and happiness to the room where your entire family can get together and share moments of joy. After all, a family that watches together stays together.
This brings me to the end of my comparison on VU Pixelight vs iFFALCON k31. Which one did you decide to buy? or do you have any further question for me? Let me know in the comments section below.
Happy watching!