LG is one of the front-runners in advancing television technology around the world. LG releases a lot of new models every year. Compared to other manufacturers, LG specializes in fashioning inexpensive models with a wide range of features. They are known for providing good value products.
Over the past few years, LG has become renowned for its O-LED and IPS LCD TVs. They are one of the best companies when it comes to image quality. So, I tested out some of their best-selling models and compiled an ultimate list of the best LG Televisions in India.
Summary – Which LG TV to Buy?
Of all the models I reviewed, I found this model by LG to be the best value for money. It is priced at around Rs. 30,000. It is 43 inches in size, which I believe will work well for most modern homes. Rich with features, this was definitely the product that stood out. Please note that this is not an Andriod TV and does not come with a smart remote. But it is surely a value for money at this price point.
However, if you are looking for a more cost-effective and/or smaller television model from LG, then this model is the one that you need.
To have a quick look at all the features that LG UHD 4K TV offers, watch the video below:
Best LG Televisions in India:
So without any further delay, let me jump right into my list of Best LG Televisions in India. As said earlier, I have selected a model each across all price points. I will start off with budget models (Under 30,000) and go all the way to 1 lakh Rs.
This will ensure, you will surely find a model that fits your needs and budget.
Best LG TV Under 30,000
1. LG 32LM560BPTC – 32 Inch HD Ready Television
LG's HD Ready LED Smart TV 32LM560BPTCis a really decent and cheap buy. For what it costs, this 80 cm HD-Ready Smart TV set with a max resolution of 1366 x 768p delivers remarkably well. The 3 HDMI and 2 USB ports make it really adaptable as well.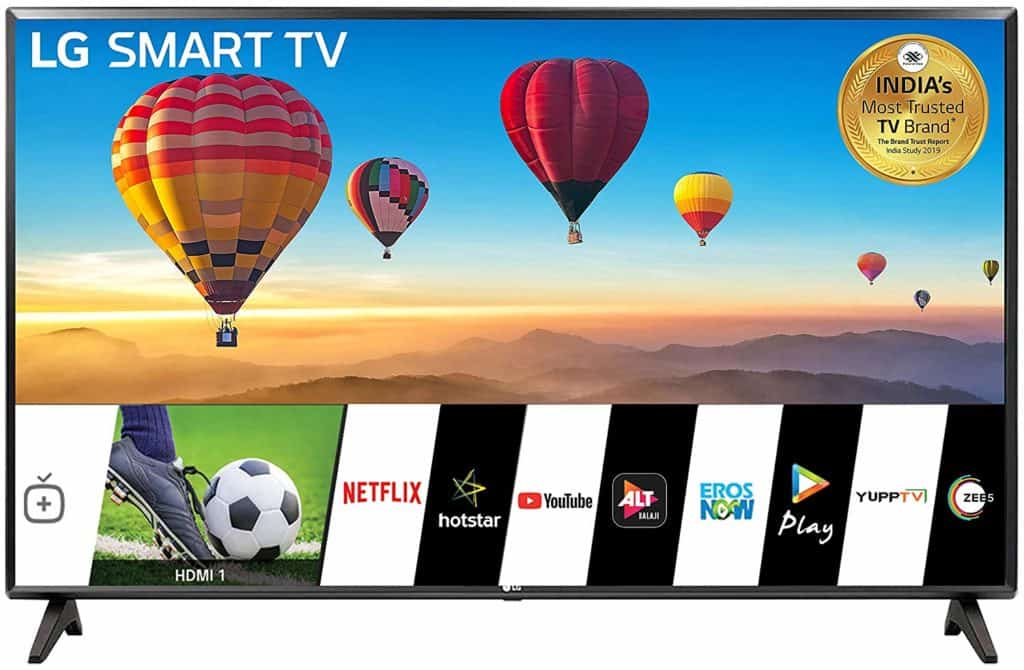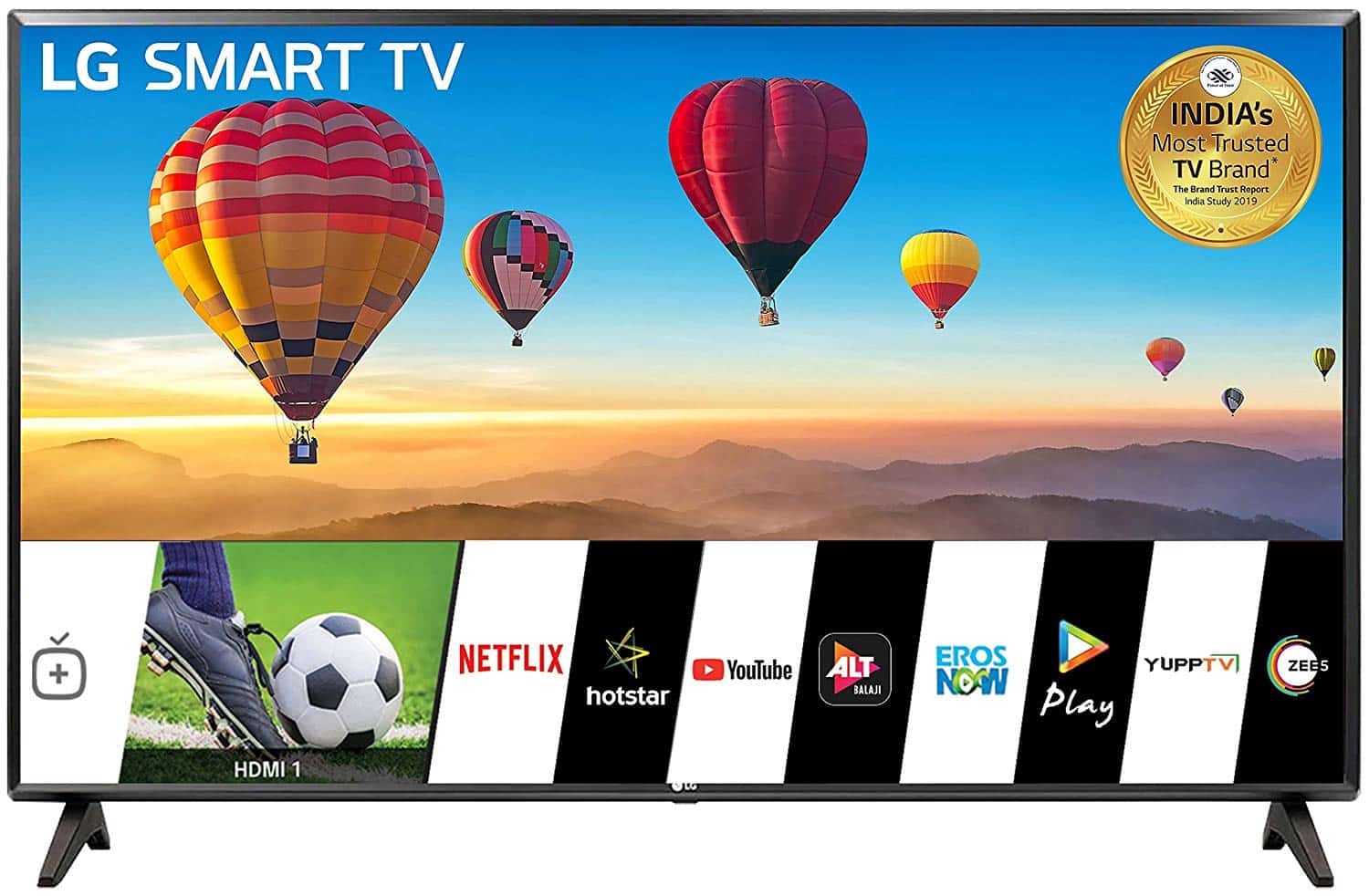 Check the Latest Price & More User Reviews – Flipkart | Amazon India
Here are some of its key features:
LG AI ThinQ – This TV features LG's unique Artificial Intelligence. Its responses to my commands were really impressive.
Wireless Sound – I got to connect the set easily to all of my external speakers wirelessly. I am a big fan of Bluetooth speakers. So, it was great to connect the TV to my speakers and enjoy an amazing audio experience. Plus, there is no need to worry about wires clogging up the back of the set!
Multi-Tasking — Surf the internet and watch programs simultaneously.
Flexible Memory — Just plug a USB stick into the set and get unlimited storage.
App Store – This set comes with an app-store where prominent streaming apps can be downloaded and used.
Although this set is remarkably cheap, that doesn't mean it has limited features. A decent buy under 30,000!
Best LG TV under 40,000
2. LG 43LM6360PTB – 43 Inch Full HD LED Smart TV
This 43-inch Full HD LED TV set from LG is one of the best selling model priced under 40,000 in India.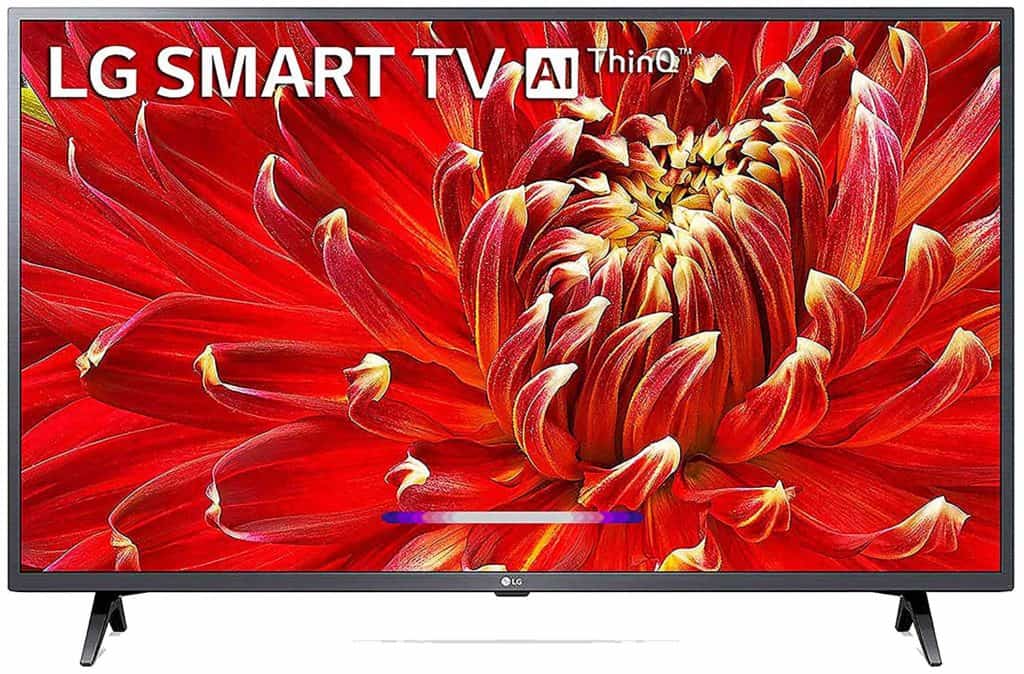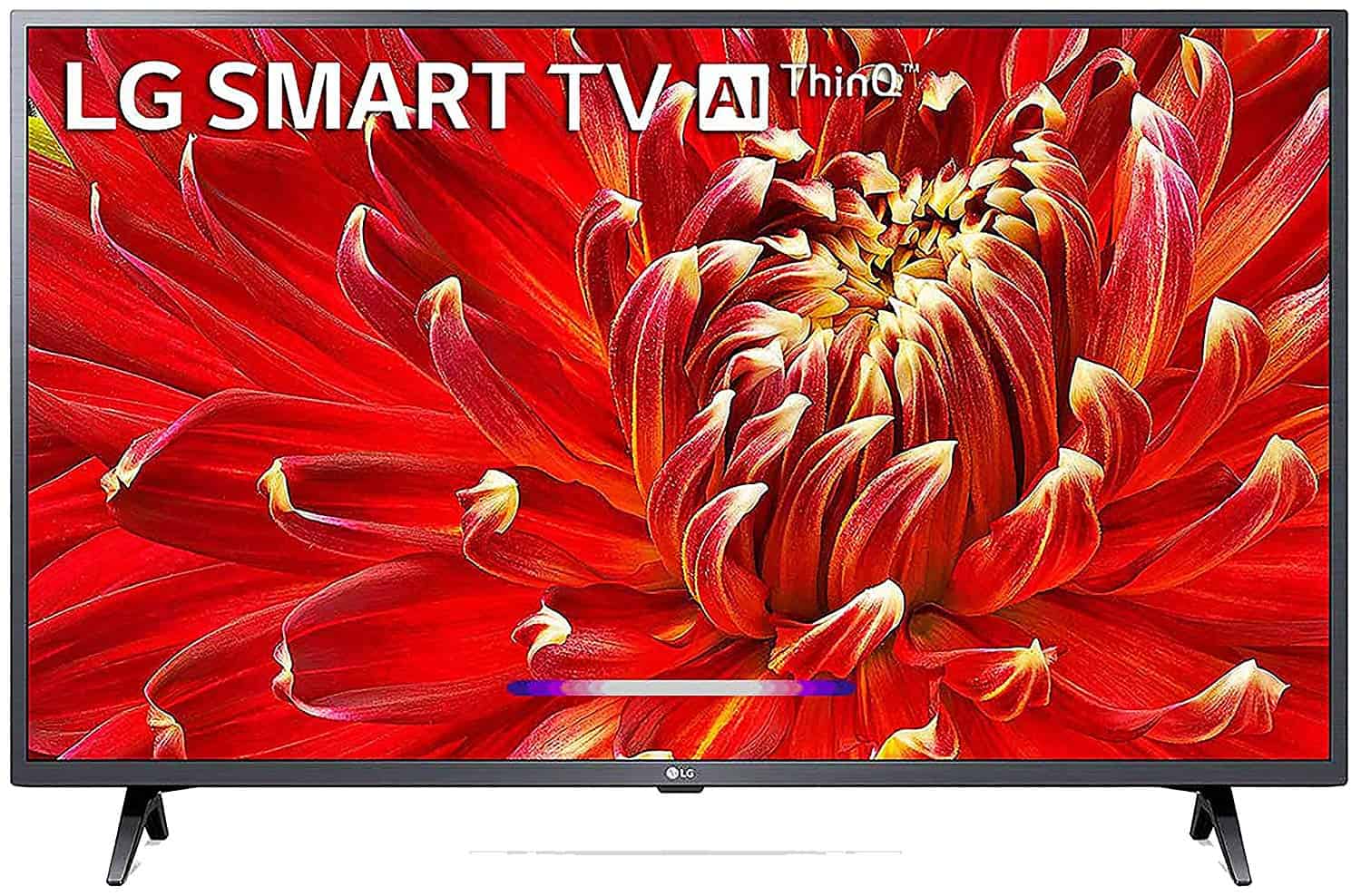 Compare Prices – Amazon India
Here are some of its key features
Design – The design is minimalistic and elegant, something which I really preferred.
Display – 43-inch 1920 x 1080 LED panel (60Hz refresh rate); comes with IPS (In-Plane Switching) panel technology which significantly improves the viewing angles without any obvious colour movements from any angle.
Smart TV – Runs on LG's own celebrated Web Operating System interface. This slick User Interface is responsive and adapted well to my preferences after a day of use.
Apps load quickly – Netflix and Youtube are preloaded. You can download more from the LG app store.
Comes with over 20 local Indian languages
The built-in games are decent
LG Thin-Q AI – The set is AI-enabled and comes with a set of voice-activated features
3 HDMI ports and 2 USB ports
Expandable memory
Dual 10W Dolby Digital Plus speakers with virtual surround sound
This 43-inch set from LG will interest users like me who like colour accuracy and sharpness. The only thing that bothered me was the fact that there were only a limited number of apps on the LG App store.
Best LG TV Under 50,000
3. LG 43UM7290PTF – 43 Inches, 4K UHD LED Smart TV
Inside the 50,000-price bracket, this 108 cm (43 Inches) set from LG is as good as it comes. The set offers 4K Ultra HD resolution (3840×2160 pixels). It is only 86 mm thick and weighs around 9 kg so expect it to fit in perfectly with any wall. This Smart TV comes with 4 HDMI ports, 2 USB ports and 20 Watts audio output.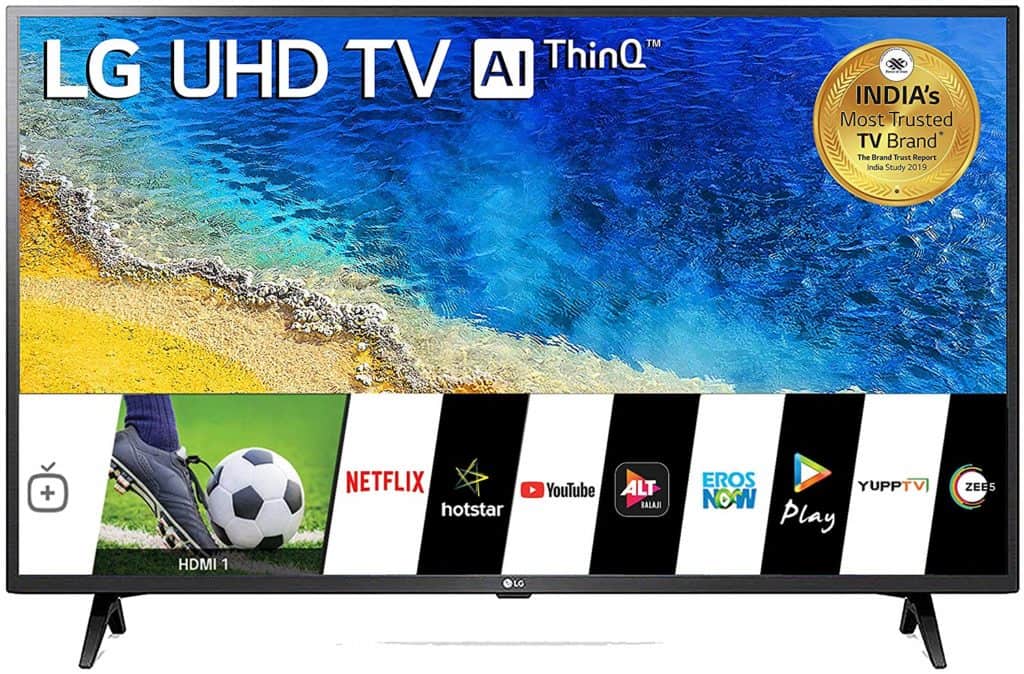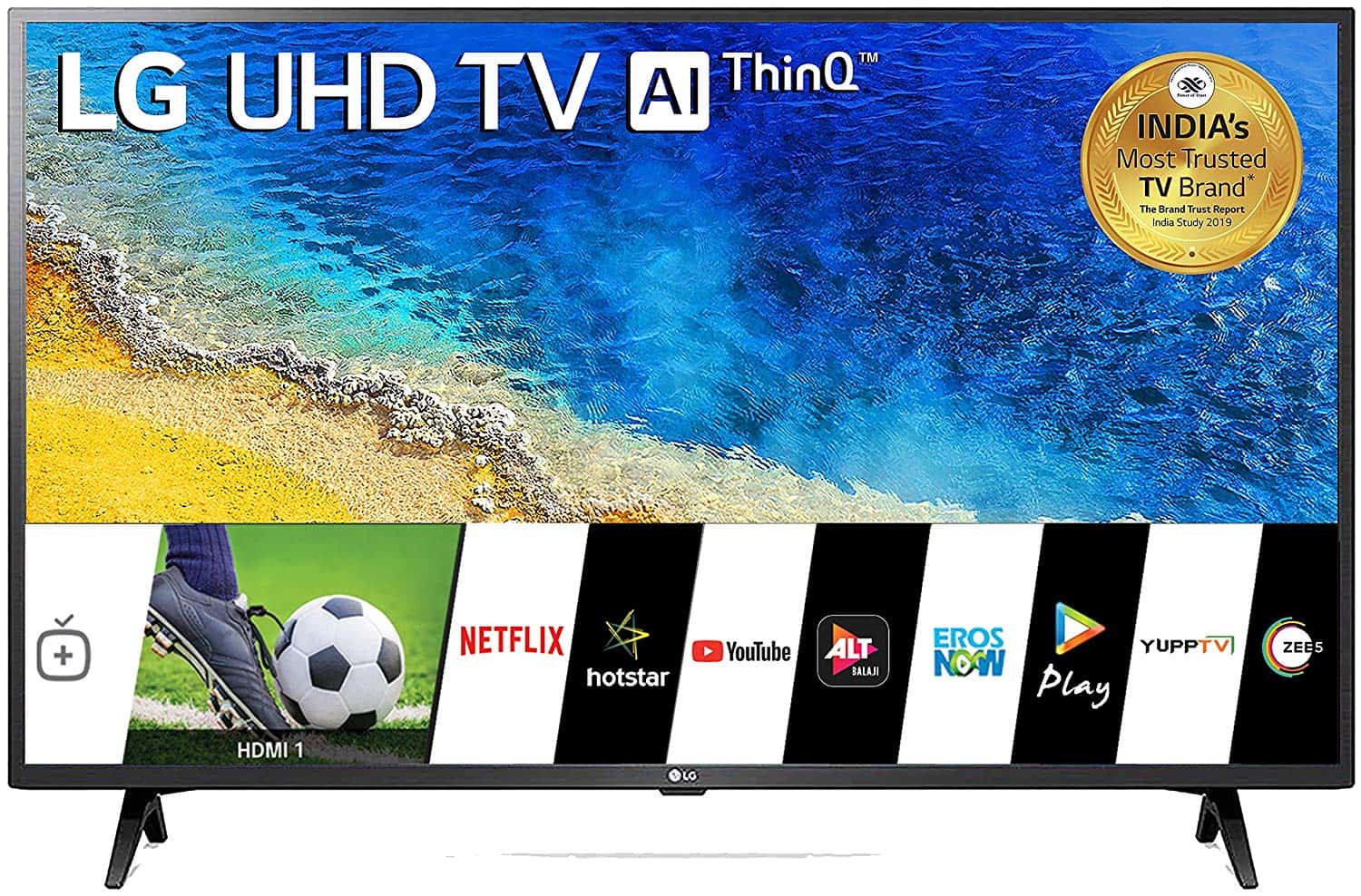 Check the Latest Price – Amazon India
Let's look at some of the features that make this set stand out
IPS Display — IPS panels are renowned for their remarkable screen quality and their compatibility with LED screens. It eliminates any distortion out of images, making them more lifelike. Viewing experience was amazing.
Wireless Sound -I got to connect the set easily to all of my external speakers wirelessly. I am a big fan of wireless audio – no need to worry about wires clogging up the back of the set!
LG AI Thin-Q – This TV also possesses LG's unique Artificial Intelligence feature. Its responses to my commands were really impressive.
Multi-Tasking – This feature allowed me to watch channels while simultaneously surfing the internet.
Recommended for Streamers – This TV is recommended for you if you subscribe to Netflix or Amazon Prime. The smart features make accessing these apps very easy. This feature certainly removed all the doubts I had about buying this product.
With pretty much zero cons, it is safe to say that this model is definitely the best in the 50,000-price bracket. I'll also say that this is a steal. This super modern set from LG will not lose its relevance for many years!
You May Like – Comparision of OnePlus Television Models (India)
Best LG Television Under 70,000
4. LG 55UM7300PTA – 55 inches, 4K UHD Smart LED TV
This set from LG's AI Thin-Q is the ultimate LED TV I could find under 70,000.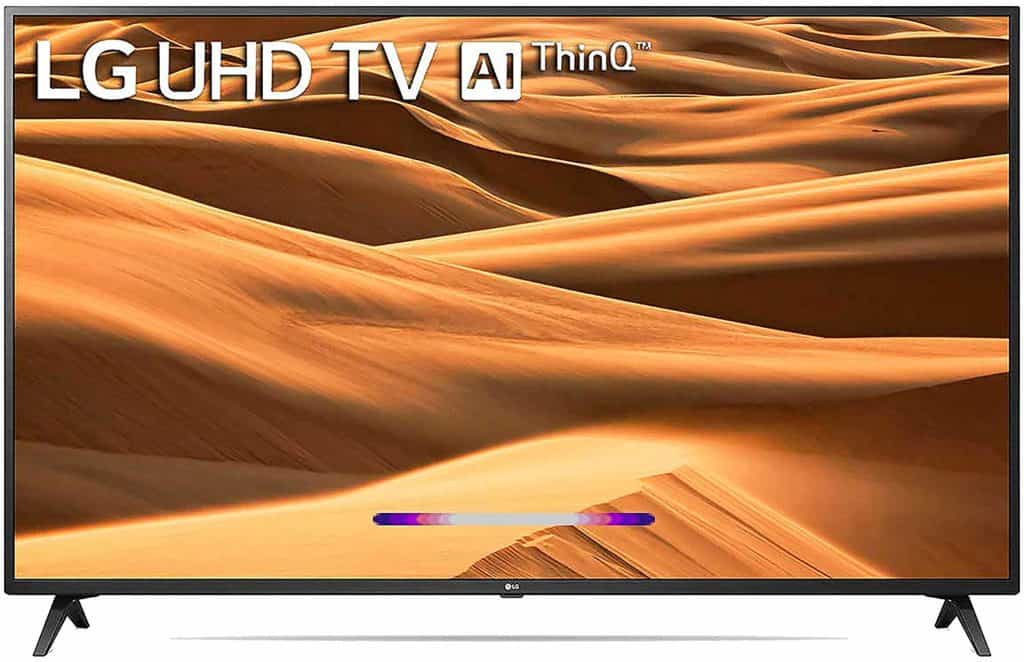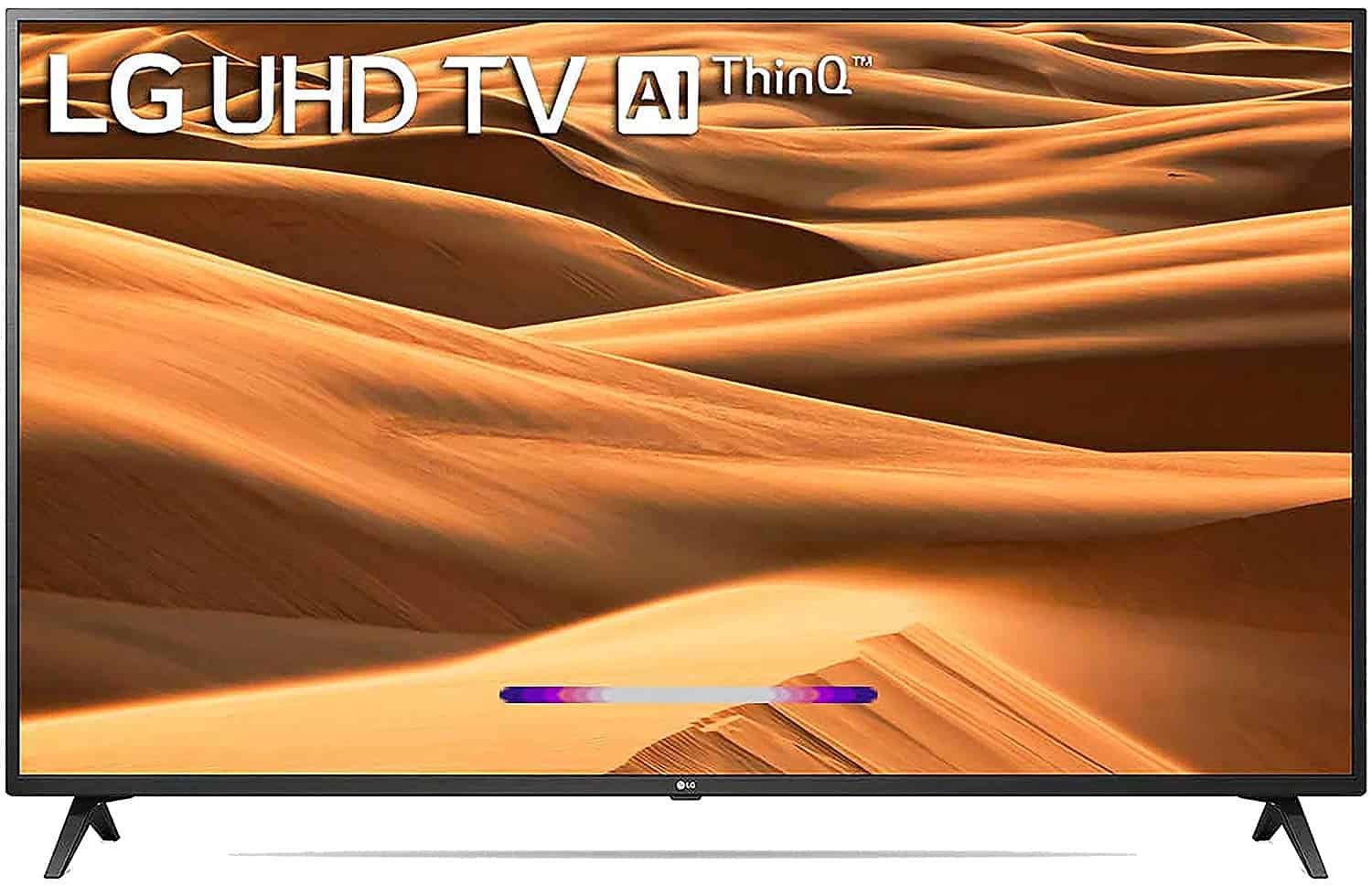 Check the Latest Price, Availability & User Reviews – Amazon
Key Features:
Display – The set has a massive 55-inch IPS display with 4K (Ultra HD)
Natural Language Processing (NLP) – The set comes with a unique AI technology that allows it to recognize and process the user's voice to carry out various commands (like switch on/off, control volume, and so on).
Inbuilt WiFi support for all downloadable applications. The TV is Netflix-friendly.
Dual 20W speakers with DTS Virtual X technology which makes your viewing experience amazing.
At a price of less than 70000, you are looking at a stunning set with 55-inch 4K display and a range of advanced features. Definitely worth the investment!
Best LG TV Under 100,000
5. LG 65UK6360PTE – 65 Inches, 4K UHD LED Smart TV
A grand model from LG, this 164cm 4K UHD LED Smart TV is the ultimate buy for someone looking to invest heavily into luxury viewing. It is definitely the best model around the 100,000 mark available in the market at the moment.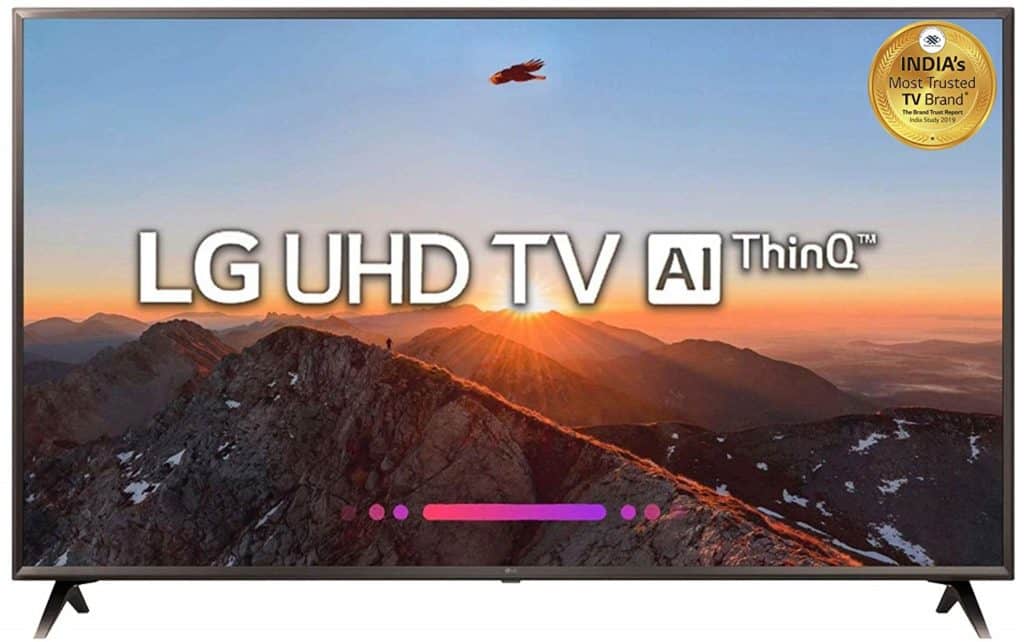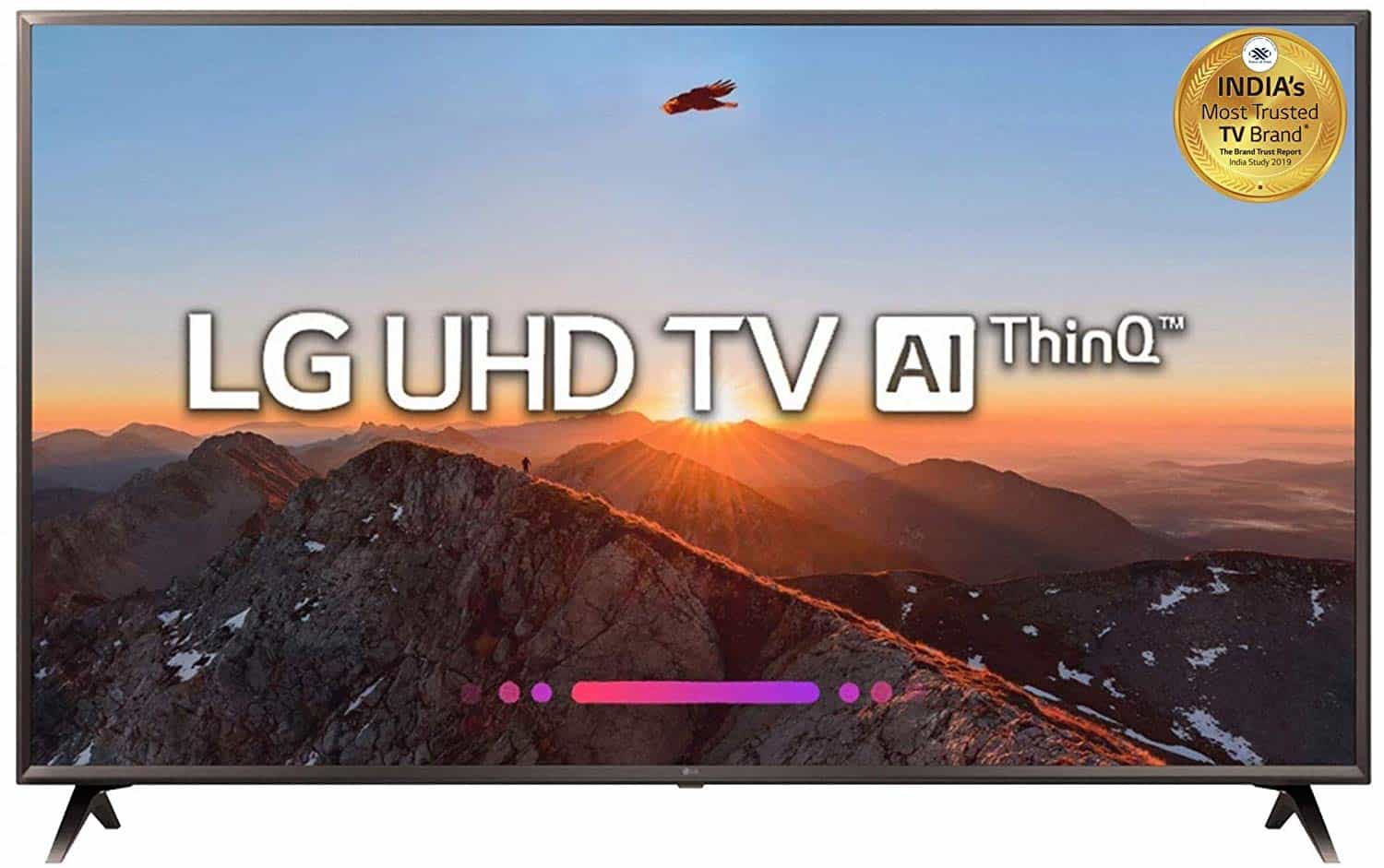 Compare Prices Online – Amazon India 
Here are some of its key features
65-inch LED Display
4K Ultra HD resolution
Smart TV with LG's unique WebOS
3 HDMI ports, 2 USB ports
2 Dolby speakers of 10W capacity, virtual surround sound
Wi-Fi and LAN connectivity
LG AI Thin-Q
A good long-term buy for luxury viewing!
Compared to other brands LG always manufactures LED and OLED TV sets with excellent viewing angles. Their WebOS is also amazing. Take your pick and choose carefully, as I did!
Summary Table – Top LG TVs in India
More FAQs about LG Televisions in India
Which is the Best LG TV?
As per my research, the best LG TV in the budget category is the model 32LM560BPTC. However, if you are willing to spend a bit more, you can opt for 43UM7290PTF, which is a 43-inch model.
Which is the Latest LG TV?
If we talk India specific, then the AI-Powered ThinQ range of OLED TV from LG is the latest. They have TV models from 32 inches to 77 inches. This range comes equipped with Netflix, Amazon Prime, Hotstar and all major OTT apps.
How much does an LG TV cost?
Well, the cost depends on the model that you wish to buy. You can buy really good budget models for around Rs. 15,000. While the top models can cost upwards of Rs. 2 Lakh
Is LG a good TV?
A big Yes. LG is amongst the best brands of televisions that you can buy in India. They have extensive research and development centre around the world and are at the forefront of developing technologies like OLED.
Is LG Smart TV 4K?
Not necessary. You will have to check individual models and their specifications to ascertain this, However, most of the models that I recommended in my review above are 4K.
Is Samsung or LG TVs better?
Both are leading television brands in India. There are pros and cons to buying both. I would recommend first understanding your needs and budget. Then look for the best model that fulfil your needs (agnostic on any brand)
I hope this my article on Best LG Televisions in India helped you select the right TV for your home. Which model did you decide to opt for? Do let me know in the comments section below.