In this blog post, I would be comparing two of the top-selling budget models, OnePlus Y Series VS MI TV 4A Pro. With the entry of OnePlus in budget television segment (Especially the 32 inch & 43-inch models), the competition in this segment has really heated up. This is really good news for the consumers as they get more options to buy from at a very competitive price point.
Summary – Which One to Buy?
Well, to be honest, you cannot go wrong buying either of the two models. However, if I had to choose one, I would surely opt for This Model (Amazon). It has a much more premium look and feel. Plus has some additional (but minor) functionality on its remote control.
The advantage of buying this model mentioned above is that you can easily pair it with any "Alexa Device" like this New Echo Dot (4th Gen) to add a touch of future to your home.
If you wish to understand the differences in detail, continue reading on.
You can also read this post which compares MI's 4 Pro with 4X pro and 4A Pro.
Comparison – OnePlus Y Series VS MI TV 4A Pro
We will now get straight to the point and start comparing these two great products. To begin with, let us start with the similarities between the two products. This will also help you understand all the standard features that these two products offer.
Similarities:
Both these models are available in two sizes, 32 and 43 Inches. They are also priced very similar (Do note that the prices keep changing often (Not by much though). Hence, I am not mentioning the prices in this review. You can easily check the current price by clicking on the links I have provided below.
They both are HD Ready television models and have a resolution of 1366 x 769 with a refresh rate of 60 hertz.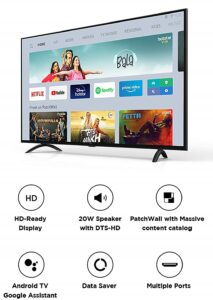 Check Latest Price of 32 & 43 Inch MI 4 Pro Models – Click Here
Both TVs offer the latest Andriod TV 9.0 and come with all standard Android features like built-in Chromecast, Google voice assistant, access to play store etc
They both come with enough HDMI and USB ports to connect your external devices easily with them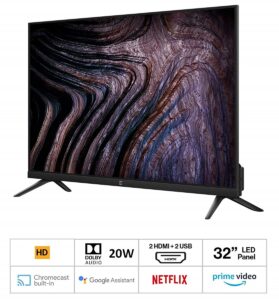 Check Prices for both OnePlus Models & more User Reviews by – Clicking Here
These models are equipped with 20 W speaker with Dolby Audio. In terms of sound output, there is hardly any noticeable difference between the two.
They both have a bezel-less design and look very modern.
Both these models are powered by a 64-bit processor.
Their remotes offer quick access to most common apps and also come with Google Voice assistant. This means you can say out loud what you want to watch and the TV will play the relevant video for you.
Both products offer a one-year comprehensive warranty on the product and one additional year on the panel. So there is hardly anything to choose from in this area.
Now that we have covered most of the similarities, let us talk about the differences between the two televisions in the section below.
Differences – OnePlus Y Series VS MI TV 4A Pro
Ok, so let's just jump right into them. As I said earlier, the differences are not much but for someone who really wants to research well, here are some top differences that I came across.
The first notable difference is the size. OnePlus is slightly sleeker with dimensions 713 x 420 mm, compared the MI 4A Pro's dimensions of 732 x 435 mm
The second difference is the remote. OnePlus offers an extra button to access YouTube directly. This will be handy for people who watch a lot of YouTube videos.
While MI's 4A Pro score more points in the connectivity department. It comes with 3 HDMI ports and 2 USB ports, While OnePlus Y Series offers only 2 HDMI Ports and 2 USB ports.
As recommended at the beginning of my post, I would personally opt for OnePlus Series Y over MI TV 4A Pro just because it is slightly better looking. However, if you are looking for more connectivity option (Say you are an avid gamer), you can opt for MI's 4A Pro.
So, this brings me to the end of my review comparing OnePlus Y Series VS MI TV 4A Pro. Which one did you decide to buy? Also, did you come across any other major differences apart from the ones I mentioned above? Do let me know your thoughts in the comments section below.
Stay at Home & Stay Safe!