In this post, I will be comparing MI 4A Pro vs MI 4A Horizon TV. MI's 4A Pro has been one of its best-selling models in India to date. However, they have launched a newer version MI 4A Horizon, which is being positioned as a better model. Is it really better? or is the same product repackaged at a higher price?
Read on to find out!
Summary – Which one would I Buy?
I looked at all the aspects of these models, including screen quality, voice quality, connectivity features, and price. If I had to buy a television between the two, I would surely opt for this model. Make sure you compare prices on Amazon too by clicking on this link.
Why did I choose this model?
The screen quality is much better. The bezels are very thin, making the TV look really premium. The voice quality is slightly better too. For a detailed review, continue reading further.
Alternatives?
The only alternative worth considering is this model by OnePlus.
MI 4A Pro vs MI 4A Horizon TV – Comparision
Ok, so with the recommendation already made, I am assuming you would want to know about the differences between these two models. However, before we get to that let me touch upon briefly the two models that MI 4A Horizon offers.
Namely, the 32 Inch model and the 43 Inch variation.
MI TV 4A Horizon 32 Inch vs 43 Inch
Apart from the very obvious differences between the screen size and the pricing for the two. There is a third major difference between these two models. The 32-inch model comes with an HD Ready 1366 x 768 Pixel screen while the 43-inch model has a Full HD 1920 x 1080 pixel screen.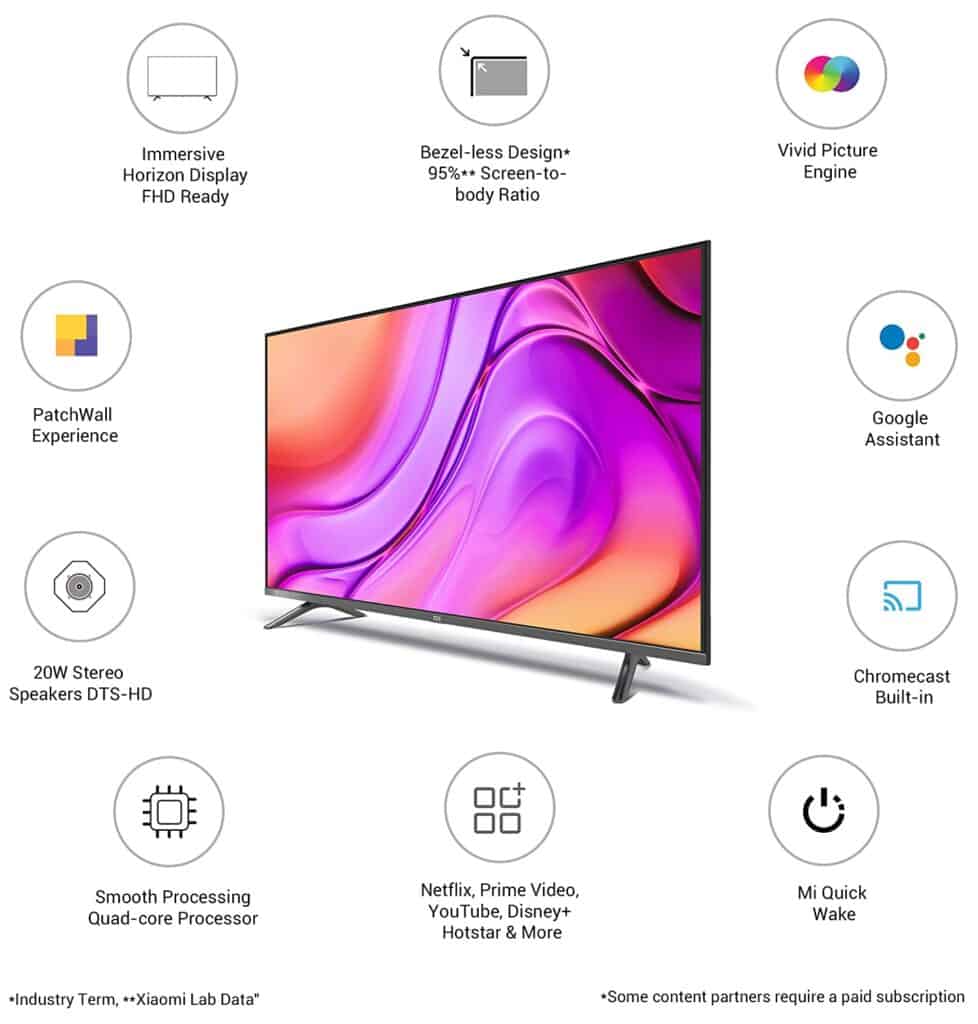 So, if your living room can accommodate a 43 Inch TV (has around 5 feet of viewing distance space), I would recommend buying the full HD screen.
You can check the latest price of 43 Inch Horizon TV by Clicking Here.
Ok!
So, with that out of the way, let us get back to the main comparison of MI 4A Pro vs MI 4A Horizon TV.
MI 4A Pro vs MI 4A Horizon TV – Main Differences
The main difference between the two is that MI 4A Horizon has even slimmer bezels (the edges of the television are known as bezels). This gives the television a much more premium look and enhances the viewing experience.
Both TVs use the same speaker (20 Watts). However, I feel the 4A Horizon speakers are slightly better tuned. If you are planning to use additional soundbars, then it will hardly matter which one you choose (In terms of sound output)
Horizon TV comes with a quick wake functionality but I assume it will be soon added to MI 4A Pro too via a software update.
As many of you would already know, 4A Pro is the older model and was launched in the year 2019. While 4A Horizon is the latest model launched in the year 2020.
Do Check Out – MI 4A Pro vs OnePlus Y Series TV
MI Horizon vs MI 4A Pro – Similarities
Both these MI TV Models are powered by Patchwall which is exclusively built by MI on top of Google's Andriod TV 9.0 platform. This means that Google Chromecast is builtin by default.
You can easily access a whole host of apps including Netflix, Amazon Prime, Hotstar, Voot, Youtube, etc
Remote controls are almost identical and come with inbuilt microphones and Google Assist. This functionality lets you just talk to the television to put on a favorite television series.
Both models come with a one-year warranty on the product and 2 years warranty on the outer panel.
These models have great connectivity features including inbuilt wifi, 1 Ethernet, 3 HDMI ports, and 2 USB 2.0 ports. They both have a headphone jack to connect earphones as well.
Offers data save functionality. MI claims that you can watch 3 times more video content using this technology.
Both operate on a quad-core processor with 1 GB RAM and 8 Gb Storage capacity.
Both can be mounted on the wall (You will need to buy the wall mount separately – Available here) or can be used on a tabletop (Stands come in the box)
To have a closer look at this product, I recommend you have a look at the video below:
This brings me to the end of my blog comparing MI 4A Pro vs MI 4A Horizon TV. As I said earlier both of them are really good. 4A Pro has been one of the top-selling models over the last year.
However, MI TV 4A Horizon is slightly better compared to the older model.
So, which model did you opt for? Do let me know in the comments section below.